Here is the Car I Dream for, Yeah~ This Car did show up in the Famous Japan Anime years ago. INITIAL-D!! yeah that right. FC3S is the model of this car. Produce by Mitsubishi. In the Movie of Initial D, this car is in White Colour "White Meteor".i had need searching around for cars that might suitable for me. cause i DON'T LIKE PROTON!! guess what ? price of this car, how much it gonna cost u to bring this baby home? RM100k? Sport Car wor~ Japan Sport Car somemore. branded Product by Mitsubishi. i won't believe my eyes with the price i saw! below RM40k?For Real? cheaper than Proton ? FC3S,wait me! someday, i gonna drive u home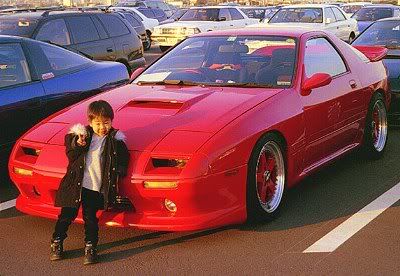 Someday, i going to Drive u!!
well. as mention before , i wish to have my own wings. maybe the first thing modification i going to do with the car above is this door modification. i'm going to attach a wings for it.
too bad.. just heard a news about this car....this car is a petrol maniac, it drink petrol more than you drink water. 1 L only able to bring u fly for 7KM? gosh... is this the reason bring your value down?