First Trip After graduation, the first station were set to be in Tioman island. so happy to take a trip after long time stresss under apiit torche. we depatch from KL about 11pm, yeah~ is PM.
then whole night night being a suffer night in the bus. why ? because we are starting active when the night come. most of us unable to sleep . guess what we do in the Bus? Chor dai Dee!!!! yeah~ no table? haha we used kitjun LV bag as table, cause it got a flat and hard enough surface. cool! time passed kinda fast.. few hour later, we getting more and more excited. too nooisy maybe, the driver turn off the light in inside the Bus. wahahahah who cares? We got our own TORCH LIGHT.wakakka, games continues, but that is the last game if not mistaken ~.~ after that everyone TRYING to get some sleep. cause of the diesel leaking somewhere around the bus i guess, the wholes bus full with diesell smells. oh ya, forgot to mention, the bus we took is TENAGA company Bus, Never ever take bus from this company ! why? i tell tell why next time.
First Impression i saw this bus "Won't Be This Bus Gua?" front mirror can clearly see it already cracked. and also the bus always make noise when it move,(can imagine how lousy it was)
okies, End of Bus story, we need to stay in the bus for almost 6 hour (gosh!) we reach mersing about 5 Am.then the next thing we do is FIND Waterway transport to reach Tioman. At First, We know there is a Speed boat at 7AM, wait wait and wait , deciding which company to buy with...Ops....the Wave seem like quite strong for today, then the next thing fly into my ear is 7am speedboat cancelled, oO". oh gosh!! then how? we HAD to wait till 4 PM Ferry . 4PM?
arrr, 1st day was wasted at there>.< . wait for 11 hour... what to do ? find hotel lor~ bad things is not much hotel offer good price with few hour . beside that, 10 people want A room. hahahaha Si Tao Poh also keep scratching her head. but at lucky we also got 1 room to rest and wait time pass by. what to do ? play Uno lor~ what else.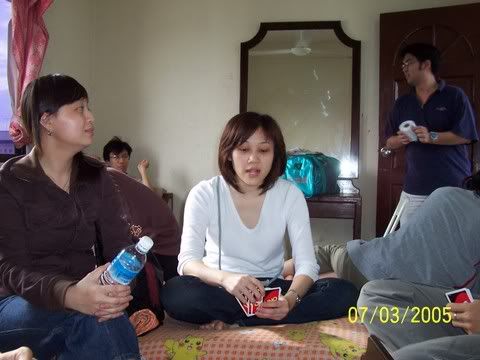 Bored then only go out the street walk walk and find lunch. Yeah~ finally time passed till 4 PM , aiks? ferry delay till 5 PM arrrggg, gonna mad already so many people wanted to get onboard ~.~ cause that is 1st ferry of the day . ok~ done, everyone on board, waikit and kienhong go upstair. hahah suppose is a 2 hour ferry ride, too bad, the wave that day stronger than usual. so the ferry was like up~~ down~~ up~~ down~~ roller coaster! ahahaha, after few times, hour or minute. the 1st victim show up. vomiting , then i fall asleep dunno what happen next, wondering why i able to sleep ? cause my childhood always sleep in father car 4x4 go through jungle . used to it :P. when i awake. gosh, most of then passanger vomit. front, left, back all vomited>.<>.< but that restaurant... haiz.. 1st restaurant we being cheated. how they cheat?? we ordered 10 drinks. but 2 out of 10 didn't come , then we remind them that 2 drinks not yet serve, what they do is add the 2 more drinks as extra order .. end of the bill 12 drinks and with 10 drinks served.... extra 2 drinks were paid for nothing. after the dinner every one gone back to their own room for rest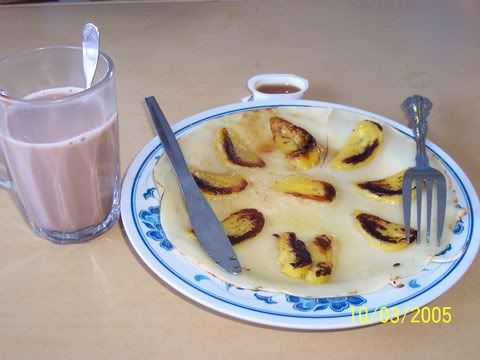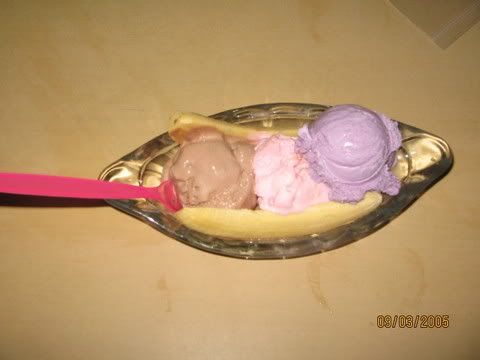 this is next day breakfast
That End Of Day 1 in Tioman