What is this??This was a Playstation Game released back in 1997(if notmisstaken). the Best RPG game, and storyline game awarded. also is my first and Best RPG game ever play. the storyline were nice. very nice. ok that all happen in 1997, i were one of those FF7 Game Maniac. now in 2005, what then did is releasing the animation with SquareSoft Specialist CG(computer Graphihc).after i watched this long waited movie. it brings back lots of memories. it was a COOL animation. brings me back to my game fantasy land. :P.
Here is the Ultimate Limited Package of the FF7AC Product. guess what? this set of collection worth RM1200. arrr, is too expensive for me to get it. and this is Limited Edition.. worth for collection.
The 2 version of DVD .Both of this DVD is Japan version. that mean NO others Subtitle beside JAPANESE.. @.@ ....DVD placed in Left is Normal ORIGINAL Final Fantasy 7 Advent Children DVD. and the right side is the First Print Edition of FF7AC DVD, which is included extra cut scense and movie clips.(i wish to get 1 First Print Edtion.. too bad is sold out T_T)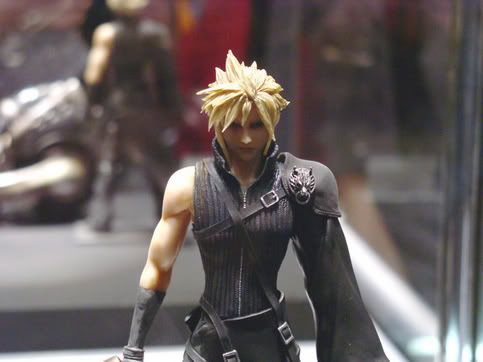 Cloud model with close view.. very details.
This is the Model of the Cloud. very details. but this is not the version come with the ultimate Limited . heard this piece of work worth RM1000 @.@.... gosh.. why everythign to expensive..