Mercedes SLR McLaren.the main purpose i go to Naza Showroom is because of this Super Sport Car. Why? well..because this SLR only 3 Units in whole Malaysia, and i can't believe i able to see this sport cars with my own eyes.. This car is Listed Top 5 Most Expensive cars. how much does it cost?? if you think Ferrari is most expensive car, think again. this car worth 7 Ferrari Modena 360. if Modena 360 worth 1 million, then this car will be 7 million. yupe... RM7,000,000,00. crazy huh?? actually only RM3.5 million for the car, and RM3.5 million for its TAXS!!! what a crap..Malaysia BOLEH! and... this is a basic version of SLR.. there is a BRABUS tunned SLR.. and the price is triple of Original SLR.. so.. i not dare to calculate how it gonna cost when it delivered into ours EVERYTHING BOLEH country.

Merc SLR McLaren. worth (RM7,000,000,00) in malaysia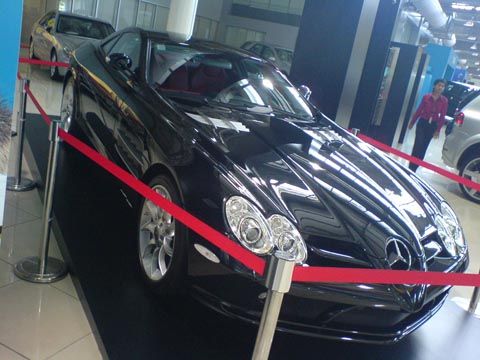 SLR front , look like F1 Head??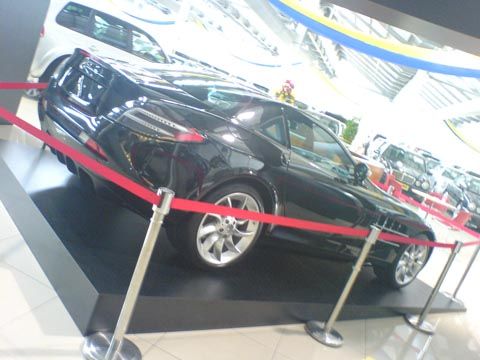 Rear Look of the SLR. it surely Cool. too bad can't see how it doors Open. very Unique i tell u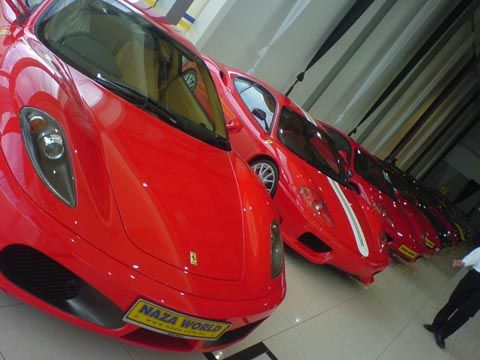 The Red Jumping Horse! Yeah that the trade mark of Ferrari,weird case i notice... the Ferrari showroom car only have limited units inside.(4~5 unit?).. and i found there are row of ferrari in Naza Showroom. funny huh?

Ferrari F430. this is the Next Ferrari After Ferrari Enzo! cool!the most good looking Ferrari in the row. it really really look great.really wish i can have 1 of these(wake up! wake up! wake up! too early for dreaming).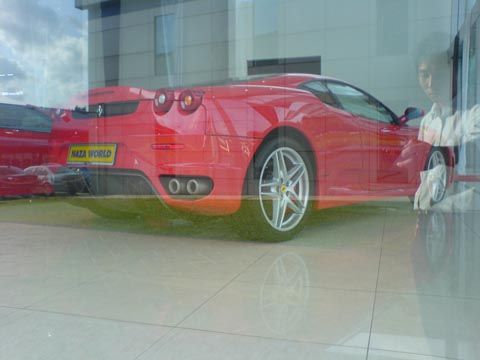 This is the only photo i took with ferrari F430. do you see me?? hmph.. and i notice the Ferrari 360 is a Used car.. why?? cause i notice there's a ALPINE cdplayer inside the Modena 360.hahaha

the Bulls Family, Lamborghini Garrado and Lamborghini murcielago. i love the murcielago designed. it looks futuristic. and the vertical doors. trademark of lamborghini.the bulls. garrado i notice is used car, cause i notice the key slot were spoiled..
That Conclude my NAZA showroom Visit. for your information.. there is lots more Merc,BMW, Japans Sport car inside the building. but.. once u see the ferrari,lamborghini,and SLR. others.. u won't be that much interesting anymore. and i being told by my friend.. there is a SECOND FLOOR. i can't see it.. on that floor, u will able to see ENZO,HANMAN Ferrari 360 and more. and some others very very rare Super cars. but need to make appointment for that.dun think i'm qualified for that T__T