so long i waited for this day to come. and finaly, friday is my last day. why i'm so happy since i going to jobless very soon? well...i am 1 of the 18 month Bond contract staff in the company. i can't leave the company else i need to compersate. lazy to mention the contition but what i can say is i wasted my time in this company and so many unhappy case happen's.
who cares? i'm leaving anyway. suppose to work till end of this year. but management changed their mind to released me earlier. means i'll on holiday soon. even this company gave me lots of unhappy case, but.. i very happy to knows lots of friendly collegue that crazy enough. hahaha, miss the time we hang out together. paint gun,rebox, movie, traveling, almost everytime in office is planning where to go when to go . seem like another college i entered instead of a working environment. can't believe 200++ staff company reduce to <10 staff company (i mean developer).
here is my Resign letter i going to give to my Vice President(Mr.chiew).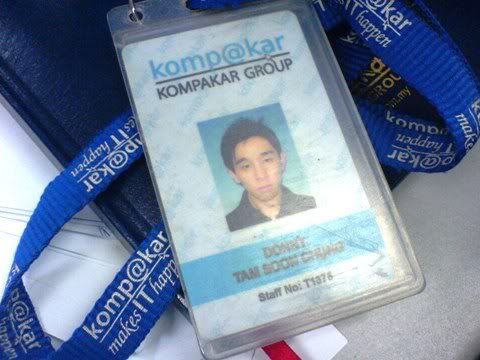 Here is Staff ID , going to return to them on friday, quicky snap a photo before i forget.