yummy stone Bowl Rice , heard my friend mentioned it taste good and new. since so intresting..i decided to pay a visit to the restaurant to have a try. wondering is it as nice as my friend mentioned to me. ok ok , here is all my review :P. hahahha, while jobless can go visits many place anytime i want :P. that cool.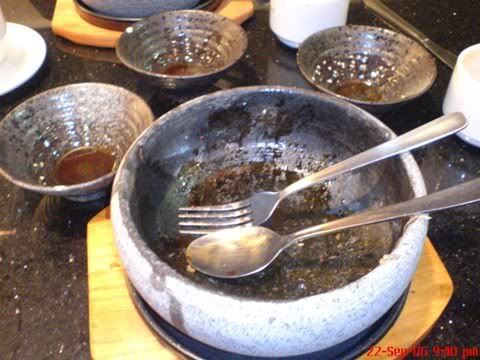 i Applologies for the plain stone bowl.. where's all the Delicious Meals?
well... it all with me. hahaha, just finished it. forgotten to take photo of it before i start .(Too Hungry jor)
see how CLEAN the bowl is? ahhaha, it means Yummy.haha, why so many small bowl? that is the source, taste nice then i request more :P
The Stone Bowl Really Made from STONE, what stone? Sorry No Idea... but what i can say is.. the rice were Hot till last bite.. (event hurt my tongue),beside... while u eating it.. watch your hand. hahaha, Nice.. but the ingreedient ar less and smaller than the poster shown. yeah yeah ~ for Illustration Purpose.. that what my friend who work as designer always said.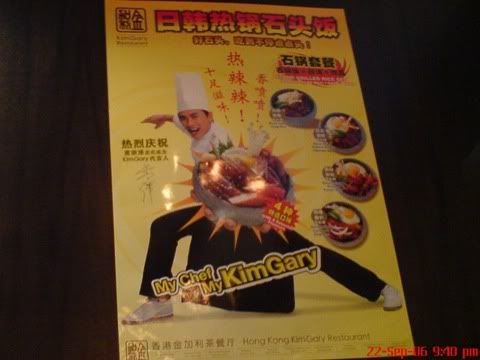 here's the poster i mention. sorry lor. since i finished the meal. i snap some poster photo to show u all how it actually look like. erm.. beside.. it have 4 choices. i ordered the mix seafood? sorf of. it cost me about RM16 a bowl. it normal price for such restaurant.

yeah yeah~ what he holding is what i ordered. don't expect that much ingreedient they going to serve u, those ingreedient is limited untill u can see the rice. eh? can't see the rice from the picture huh?? hehehe.thats power of advertising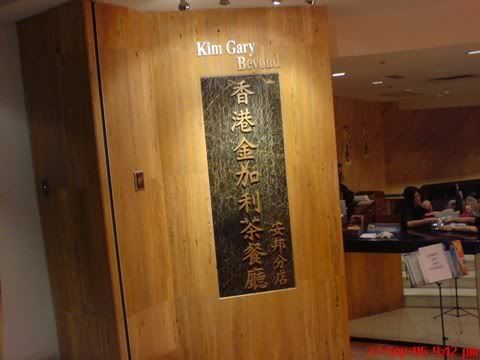 ok~ if someone wanted to try what i had? then go ahead. hahaha, where is it?? oh~, it's 1 of the famous restaurant. KIM GARY. guess lot's people know about it right? i loved their Bake Cheese Rice. (yeah~ i knew some people will disagree with me, but i'm cheese Lover). this is KLCC Kim Gary, neh~ the 1 near LRT Station.