Mu online was the 1st Online game i tried, i start it way before Ragnarok Online introduced in malaysia.i was notice this game in one of the cybercafe nearby place i stay. it have cool 3D look and fantasy feels on it. and i asked the cafe boss and he intro me to play . well it taiwan server. so i need his help to get the starter pack from taiwan. actaully just the serial number.
and the game was build based on fantasy land background. Atlantis, Tarkan, what i can say is the graphic is superb on that time technologies. it look like more to DIABLO engines.
at the very beginning, i were plan to kill my time in semester break in college. but.. i addicted with it. i can't stop playing it. hahaha, i spend atleast 5 hours playing it everyday. even college life started. that time were great. i meet lots of Mu friends through the game. any kind. all are full time player, group hunt, group leveling, really unbelievable. i had my golden memories that time.
after almost a year. everyone starting to leave from the game.. and that time i notice.. i'm outdated.. what happening outside the worlds? i fully enjoyed the virtual worlds and forgotten what happening outside. and i notice what i'm chasing all the time just a Virtual Worlds. no matter how glory you are in the game. still nothing changed in real worlds. then a Shocking News i noticed and it hurt me badly.. since then, Farewell MU online...
after a year or two. i meet my partners in Mu online. 1 of the archer in our clan. talk a lots our happy moment. and made me remind our friends in MU online. some back to penang. some started their business, some even married. gosh.. everyone is grown up. MU online had become 1 of my memories.
it remind me after a tournament, my friend call up and ask for teh tarik session in BRJ. i never forget the time.. 4pm called me up and go teh tarik? all crazy feller. well crazy me did attend. ahahha. then continues with the games untill lunch time. yeah~ i'm mad player. everyone look blur blur and get home after lunch. hahaha.
i did check on the official website recently, it have a update on it. but.. all my frined i knew is retired from the game. so there is no point replay this game. beside.. this also a game that make me understood that.. Online Game also can be a job.for you information.. this game cost RM60 a month.. i played for a year++ and i paid nothing for it. Virtual Item Trading. sound cool. cycber cafe boss is earning from it. side income huh?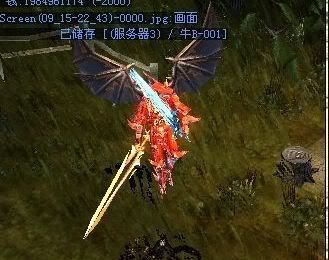 MU online believe it or not. there is a event last for a month long. and the winner will able to get the "Angel Weapon" which is very Unique in the server. and only 1 UNIT ONLY. so i don't know why. it happen to fall into malaysian player. and 1 taiwan player offer RM26k to trade with the Virtual Item.and u mwill be spending most of your time leveling your character. Max Level = 400.i managed to get to leve 222. with red dragon armor with 2nd knight wings.
just the wand in the middle cost RM26k... do you believe?
anyway... i'm out of this game.. greate memories it brings. but also made me lost lots of things as well. coz this game can't switch to windows mode. i been missing or MIA in MSN for a long time.. its just a game. why so hardwork for it? will never get anything in return.
Farewell Mu Online and My MU online Friends.