i waited for his concert for soo sooo long.. remember there is once Micheal Victor Disband concert held in malaysia.. unfortunately that time i still go through my studies in secondery school. so no fate for me to take part in the concert. and i keep looking forward for his concert. luckily there is one charity concert with 10 artist and included micheal and victor. i so gald i can be there. but still not his own concert after all. so his song also limited. after wait for 5 years? or more.. he finally start his concert in bukit jalil. i damn excited for that. whaaha. i loves his song . relaxing, touching, :p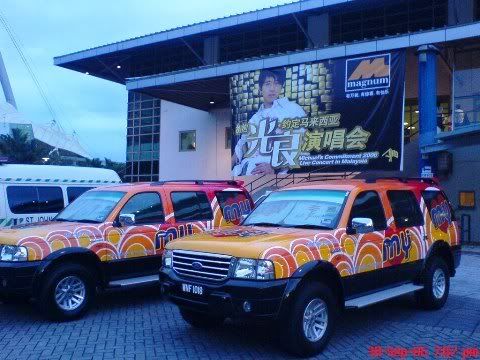 I'm Outside the Stadium and i saw 2 MyFM cars parked outside. Cool~, i wonder those Dj is it inside the concert hall? i arrived a bit early cause i didn't plan to drive to bukit jalil. i predict there is a terrible jammed will happen around that area. so i parked my car at titiwangsa and take LRT to bukit jalil.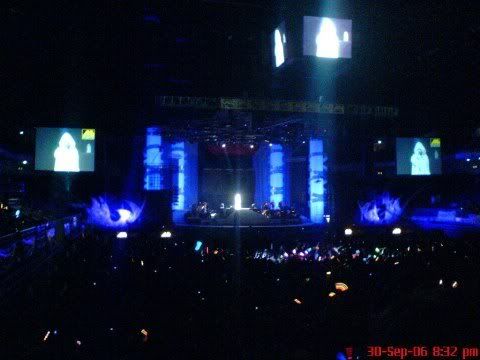 He's Apear with mystery white cloth. partners with a black cloths guy. i tot is victor since they duet the song.. too bad... is it not victor, he didn't show up in the whole concert. possible is because of micheal moved to new company?? but.. it still have the victors shadows when the song is playing.what song is it?? 天使 is the name. !st Song of whole concert.
Yeah~ Micheal in Action , let talk what so special in this concert.
there is few parts gave me deep impression. really worth waiting for so many years. it gave me a very out of my expectation concert show.it cool really cool. he did prepared so many screen to make sure everyone have a clear view of the concert. how many screen? take and look and take your time to count.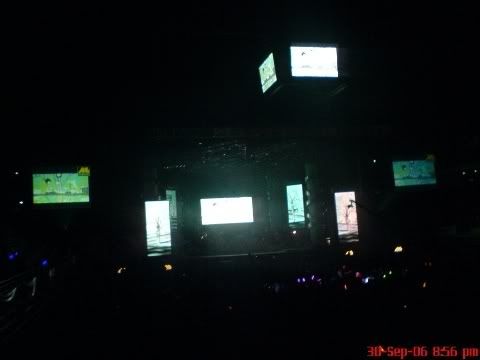 Let's count how many SCREEN they have? will ya?
among all the surprise ,one of it is rain drops effect on the stage. it really make some artificial rain to make the song he sing synchronize with the environment. that call.. wonder is he feeling cold. aircond quite cold tat night :P, well the video look cool with the raining effect.after the water raining effect,artificial snow make feel like winters, i not sure what is it but it make the winter to come alive. and while micheal is singing the song. and the background keep changing and some effect will be shown to match the 4 season which never happen in malaysia. that nice~.
While he singing the "電話留言"(Voice Mailbox) , most of the fans in the hall start swinging the handphone as a lighting stick replacement. hahaaha, everyone holding their phone swing and swing. (i can see those fans or youngster so rich.. all latest model and expensive phone..)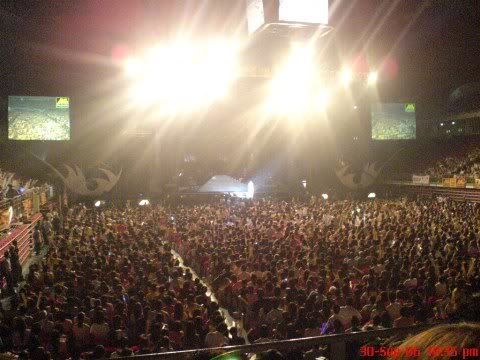 lights up for everyone to look for the paperplane
Another part is micheal inform us that there is a paper available in the back of the broucher. is prepared for everyone to make a paper plane. and by the time he fly the paper plane. whole concert hall fly their paper plane as well. (sorry, it happen in sudden, can't predict when they trying to fly it, so no photo of it).the hall full of paper plane in that time. is.. too Cool!!!
1 of the statify picture taken with my function limtied camera phone.
I notice micheal like to talk lots. he is a bit like....naggy.. hahaha, a bit similar with my mom :P(sorry mom -_-" forgive me). and while he talk a lots. he did mentioned that he took some of his web guestbook entries to put on the concert. that cool. lots of creative message being written in micheal website.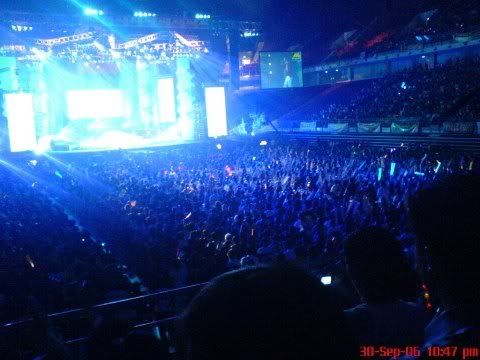 Stay Tuned. Micheal will be back after cloth changes
Lets see the number of the audiance.. wow.. totally Full Housed. there also international fans coming from overseas, such as Hong Kong,Taiwan,Singapore,Shang Hai,.. no wonder tickets not enough in malaysia..... wondering how they able to get malaysia entrance ticket? since malaysian hard to get it.hahaha,Ipoh singer became International Artist. That proud.



Bigs Love Shape Apear on the stage (hey! it blocked the main screen)
another part which is unexpected by micheal as well.. is really touching.. is all about 擁抱(hug) by micheal. why? what happen? before the performance begins. micheal give a flash back of his childhood.start from his parent marrige photo, baby photo,boy,teenager,adult, steped to music roads and so on. what he want to tell is to thanks his parent.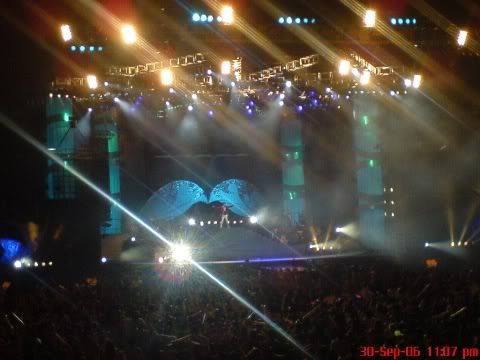 The big huge Love Transform into a pair of Wings. while he performing 童話(fairy tales), 1 of my favourite song.
but.. the music start no long after.. i notice micheal voice goes weird. then gosh... he can't control his emition anymore.. he drops his tears infront all his fans, and it hard for him to continue his performance.. then ..things go unexpected from here. Audience start to continue his song... and micheal while trying to recover and he become the Audience. the song go loud and clear without micheal voice. then the screen stat to show lyrics of the song . it became a giant karaoke.
alright~ everyone is time to go home. Shows Over.
Ok's shows over. Victor is not coming, and he is really not apear in the concert.. that the only things i dissapointed.During Encore, micheal perform a unrelease songs. is a just finished songs, how new? untill micheal voice out different lyrics shown on the screen. kinda nice song. wonder when is his next album coming out... or EP? before i go back to titiwangsa station. some staff distributing REDBULLS energy drinks outside the stadium. cool, got free drinks. hahaha. in a blink of eyes, a big box of red bulls just left ice inside it. lucky~.
ok, that all, it conclude everything. packing happy feeling and on the way home. just 1 think keep apear in my mind.. "Victor, Where are you?", his been silent for so long. wondering how's his album preparation?.
P/S:
One thing i notice funny while i on my way back.(i'm in LRT crouded with Micheal Fans), as usual, unable to get those seat's. no space to move.. very hot.. argg.. all talk about micheal performance. then suddenly someone phone ringS with Micheal Songs as ringtones. whole train start laughing out loud. everyone on the train is the same ^.^ then continues with some others people phone. haha, Micheal Song Ringtone as well.... everyone also the same . hahaha