happy birthday to siew weng~~~hahaha, sorry ar, i greet her in wrong day few days back :P, forgoten that is early celebration for her.3rd mom? other ppl got 3 wife i got 3 mom. we celebrate in alpha angle "The Egg House", hope she won't mind cause i suggest this place.. kinda dissapointed place.(KFC food nicer) somemore clashed with buka puasa.. most of the shop (even shop owner also malay) is filled with malay. kinda weird..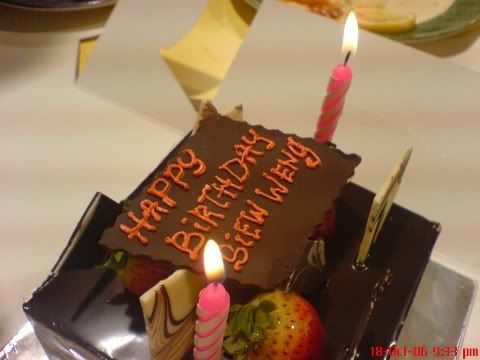 here is her square little birthday cake. lots of chocolate. hahaha, hey~ i saw sitohbehlei on top of it. whaahhaa. but i dun want.kakakka. yeah~ my 3rd mom still very young gar~. hahaha

Singing birhtday song~ look so enjoyed and happy . hwahaha guess this is first and last time i spend my meal in the Egg house. but luckily birthday MOM look happy. hwhahaha, i wonder if she got any complained on the food or not? hawhaha.