badluck.. very very badluck.. my car being TOUCHED again... and.. same SPOT i fixed last month. damn!! i spend RM700 to get my wira fix last month.. and now... same spot need to be fix again.. i can't believe i had to fix the same place twice within 2 month. wah lau~!!!
here how my wira car look like now.. gosh , what the driver left me is white paint!! okay, now i know that feller driving a WHITE COLOUR vehicles. i start to hate white cars from now.. grrr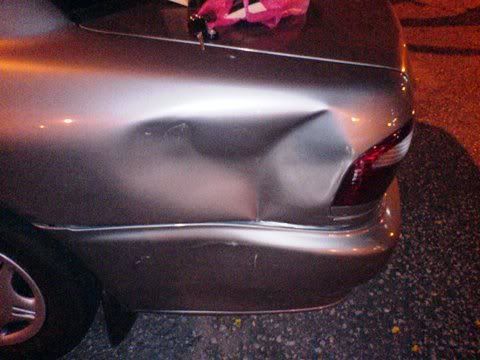 how it happen?? i parked my car at carpark after i come back from work last week friday. and i go out in saturday night. i though my friend were joking with me when asking what happen to you car?" but i don't believe it happen to me again. the rear lamp broked a little bit (just changed and less than 1 month). and i need to spend few hundred to get it fix again?? oh gosh!! i wonder which "P"rofessional Driver did that to my car and ran away just like that.i'll pay more attention to WHITE CAR from now on.
what that feller left me is
1) white Paint on my car.
2) a serious run out of shape to my car
white car owner is WANTED!!! and great reward will be awarded if anyone bring me that PROFESSIONAL Driver.