i took these picture while ago.. just forgotten to upload. yeah~ the curve is well decorate again this time.. after blue christmas,now it come the Pink Chinese New year, add on with Valentines.(that why they use Pink?)
as usual.. such nice decoration will attract more people to come grab some photo. and there they are.. crouded..
Oriental Music performance is live on the stage. oh yeah~ i can feel the Chinese New Year is Coming. all using traditional music instructment. very strong and obvious oriental feel'S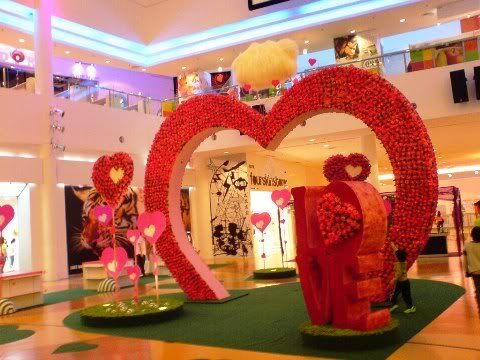 and this is the valentine decoration can be found in Cathay Cineplex. nice right? but is non of my business.just to share the nice decoration. be aware, Credit card saler base is just near by .
oh ya~ here the additional Photo i grab yesterday.. kinda moody on monday, so i went to the curve to have a walk. hahaha, this Ciwawa blow away my moody. look's cute, the naughty ciwawa(small dog) keep on jumping on the sleeping Golden Retriever(big Dog). funny part is,the the small dog very exciting jump on the big dog when i walk closer, and the big dog can continue sleep like nothing happen. whahaha,so i grab this photo :P