Ok.. this what happen on me... once a while i ask my sandakan Kambing and Bear Bear hung ,(yayaya, i'm Ngau Ngau the MadCow) come out dinner.... and i bet with that Bear that joyce(another sandakanish) won't join us for dinner session... we agreed on TEH ICE!!! ok... who know.. she DID joined us.... ok.. i had to treat lo...
but we dinner at a steamboat place that don't sell Teh Ice. muahahahhaa, i tot i was escaped... who know .. that bear seem like preparing to hybernate.. asking for yumcha session.. after steamboat dinner.. he want to find a place that selling Teh Ice.... then... their final choice is OLD TOWN cafe...the next line come across my mind is "OLD My GOD!!!"
nvm... promise is promise, maybe slightly expensive that mamak... when look on the menu... they have "TEH ICE BLENDED" -_- why!!!!! T___T NO!!!! the next thing i heard is "FIVE TEH ICE BLENDED PLEASE" -_- ok... i'll never bet with that tricky bear again...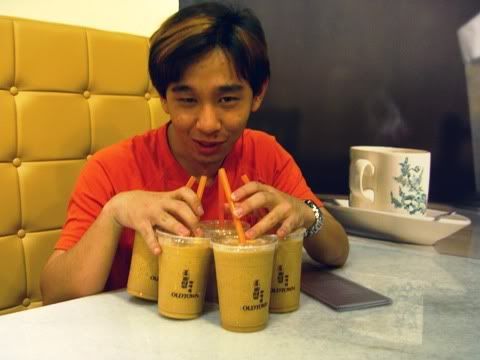 here is all the TEH ICE BLENDED order by the TRICKY BEAR!