hahaha it's my Birthday Eve today~ lol.. so .. gathered few ppl to go somewhere, where to go? hahhaa, first planned to go somewhere drink drink.. but then suddenly plan changed then climb up to genting for coffee bean session~ . yeah~ blow blow wind, drin drink ice-blended, then start shake your body. whahaha.
Yeah~ CoffeeBean! Ice Blended!! that COOL! trust me. genting ice blended is taste different from KL or else where ice blended. should try. hahahaa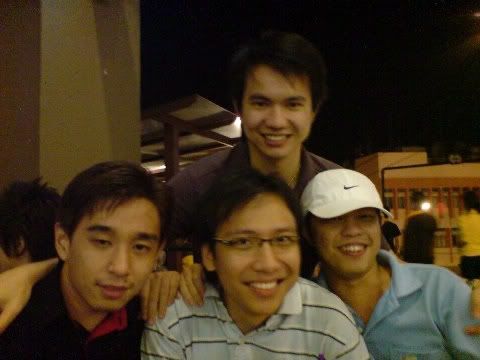 Time for some Photos.. me, mical,kai and yik. the 4 gila gila feller that decided to go up genting last munites. whahaha, but i enjoyed. wahahha, i like cool envorinment. added with ice blended. Fu.YOH! nice!!
i like this photo. hahaha, somewhere in genting.. know where is it?? it's COOL out there. went down almost 4 am in the morning.. what time we go up? 11pm.. yeah~ just go up for coffeeBean and Cold Wind. whahaa