As previous Post. yeah i resigned, and today i'm 2nd day showing my face in my new company. New Environment! new Face! new Food!! New Price Tag !! T__T (KLCC mar). i found that colleague quite friendly here. My Wira finally get a rest at it's carpark. i'm taking LRT to work now. now most of my time is walk walk walk. hahaha, good diet..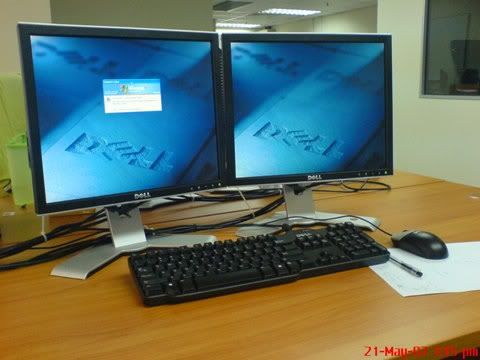 there are a lot of New things i like about this new company. one of it? placed on my table. check it out. it's COOL!! i tot my 19" Wide screen is WIDE enough.. but this is way more cool :P. yeah, it's my working tools.
why needed 2 screen?? well.. i'm not so clear as well.. currently i used it for 1 Screen for Gmail.com another open Cari Forum. no need to ALT+TAB most of the time. from what my senior told me. 1 LCD for CODE'S checking, another LCD for WEB end result checking. sound cool? hope the workload won't scaring me away...