i'm back with an update~ haha, nothing interesting recently.. so i didn't post any update. and add on my motherboard was toasted... so.. currently still waiting for the motherboard to come back.. (luckily still got warranty). had to suffer for 3 weeks, 3 WEEEKS!!!. ok.. back to topic. last weekend i join my colleague for ZORBING BALL RIDE!! what is that? i believe u able to recall when you saw the picture above. yeah~ an activities that was HOT in australia. and now they available in Malaysia. just started for 2 week's, and we are the first batch to roll with the ball. LOL.
Wow~ what's that? Zorb Ball.!! Imported from Australia i heard... worth.. Rm18k...siao~!! yeah~ that the ball we going to Roll with. there is Wet and Dry choice.. but due to some management issue... our WET choice have been cancelled... haihz...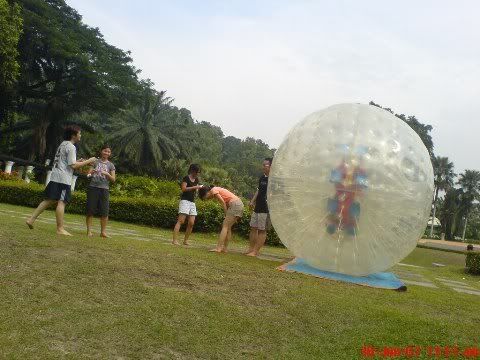 Take a deep breath before you get into the ball, fu~~ fu~~fu~~, relax relax~ are your insurance still valid?? hahahaha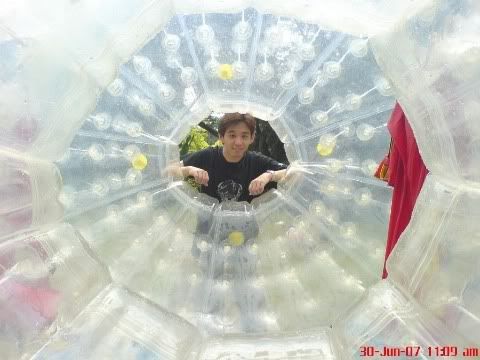 Me and the Zorbing Ball. coool~that's how it look like inside the ball. filled with AIR~



ok.. it's my turn now~ ready?and due to some plan changed.. there are not allowed to Roll with 1 candidates.. so.. i same ride with the activities organizer.yeah~ that's his Ball.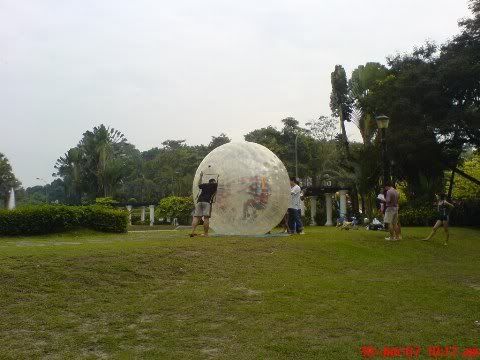 still... teaching us how to fasten the seatbelt. hahaha. how to tied ourself to the ball. how to act when inside the ball. bla bla bla. i hope faster finished.. coz inside the ball was SAUNA!!!



here is it~ ready to roll out~! i'll be roll from here to there~hope i won't crash on the tree's there. hahaha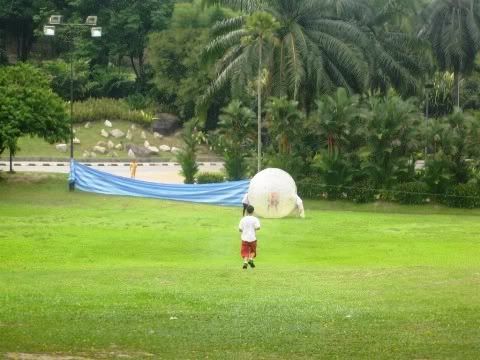 Rescuse team come to the rescue , ok. that's it!! Rm30 is finished... well.. what i can say is.. maybe becasue of the land surface or location.. it roll less than 30 seconds as they promised. but what they told me.. the rolling time must not more than 1 minutes.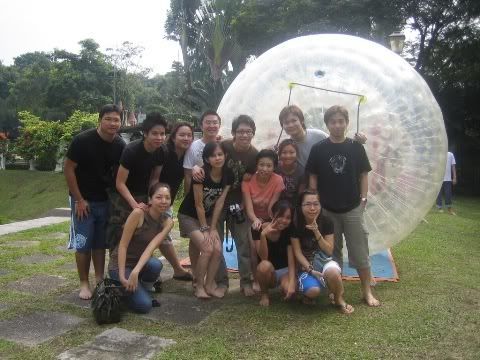 the Zorb Ball Team,mostly are.. friend geh friends. hahaha. and the organizer didn't come to join us today.. due to some family matters. too bad...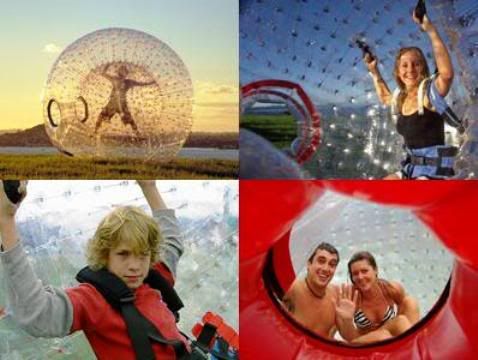 some picture taken from their official website. that i think is cOOL

anyone interested? come here ----> [
Zorb Ball Ride
]