Bondori, i heard about this event since 2000, but always facing obstacles to attend it,i heard it sound fun since can exprience some japanese culture there. but i only able to go for my first time this year. yeah i know... i'm a bit old for the activities. haha, hardly see same age people there.
Bondori Hand Fan. grab a lot at the entrance, hahahaha, can decorate at home or at my car later. hahahhaa. a proved of went to bonodori this year.



Me and Jen at Shah Alam Bonodori~ while waiting for the event to kick start. hehehehe. we grab a lot fan... coz later going to be warm.. very very warm. hahahaha.



here's the Bon Odori programme list. dance dance and still dance~ basically part 1 ,part 2 and part 3 is the same dance. jut repeat and repeat. hahaha.



Dance Begins. start dancing. their cloth kinda nice~ is called as Yukatabira. is nice~ look like really japan feel, japan style.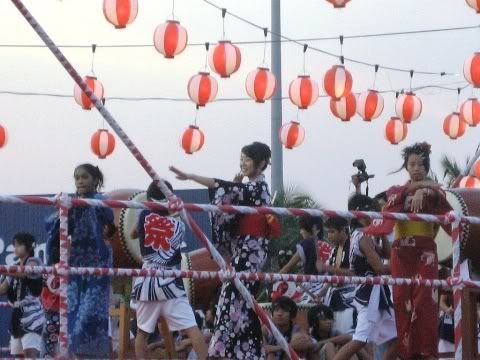 more closer look of japan girl? XD. cool~drummer sit there for the chance to perform? hahaha.erm?? indian japanese on the left?that still normal.. i saw a malay wearing Yukatabira with TUDUNG!!! OMG!!! what is that? look so funny to me.



ok.... time for some Japanese food? erm... after i saw this situation... i got stunned.... gosh...everyone must be very very hungry.....even the food in the stall is Sold Out... almost nothing left... that's... crazy...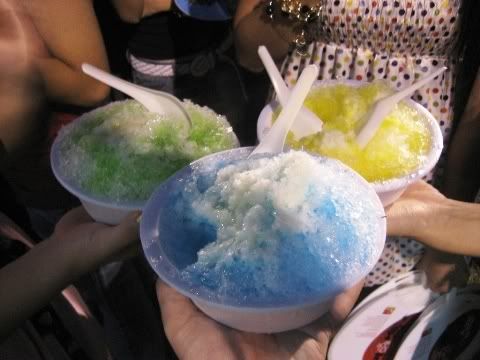 got something from the stall at last...what's this? Japan style Ais Kacang?? is ICE with some flavour . lol. don bothers. is hot here~ a cold things like this will do just fine :P, i failed to get some japan food from the stall.. it.. scary...i mean the croud..



ok.. the show's over. the dance finished, japan girl? all starting to go home. nothing else left. here is the dancing stage . i wish to go up there to snap some photo. hahaa my friend said i can snap photo with security if i go up there. hahaha.



some others photo. japanese culture..i tot can eat a lot of japanese food there.. but i were dissapointed. haih.. i even saw sushi king stall there. funny~ but no shogun, no genki sushi, no saisaki or yagoya, LOL , want to attend this event? bah~ bah~ wait for next year lar. and i notice this is the 31st Bonodori in malaysia~ don't believe? see the Hand Fan. LOL