Last friday~ our company declare that only work for half day. why huh? well.. our company celebrating 6th years Anniversary. so rest of the day? is RACE MATCH!!! yeah~ after lunch we straight away head toward Shah Alam! is time for a little Race!!
Here some photo taken by my colleague EKA. that's my Kart, 80cc , Auto Transmition :p.this kart can Accelerate real fast! just look at is size small small, is a FR (or MR),it can DRIFT!!



Everyone~ Driver Dosen't Choose the car, is the Car who choose the driver. is truth.. why? because of the Size of the bucket Seat... hahaha, and.. realised something? there is NO SEAT BELT, hope no police around.LOL.



Get Ready? start your Engine!! this part i found kinda fun! there is a safety car(yellow with 2 steering) will bring u round the 1st lap, with speed limited, then once the safety car return to pit stop. the race Begin!!



Race finished!! is time to check the ranking! what's is my Best Lap?yeah~ they did keep track of everyone lap Timing and Racer Ranking.Cool rite?



here some closer look of the result... i'm ranked number 5 T_T, they are fast...quoted lap time is the Best Lap time.



well.. they said the car is Extremely stable. and i believe that.but sometimes... things like this still might happen.this is not cause of cornering. he crash on tyre wall... gosh.. he did flip his kart upside down... and caused him this injury...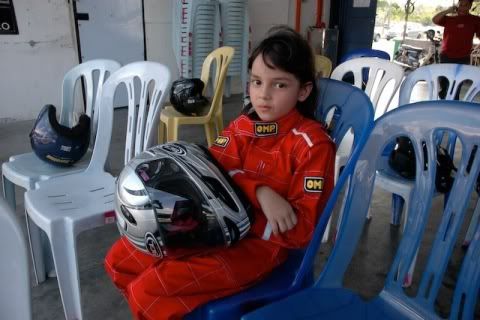 look at her!! damn cute!! with

FULLY EQUIPED RACING GEAR!!!

i like that!! Racing Queen!! waiting for his dad middle of racing.



Private PROFESSIONAL Kart? is totally different from what they got!it got Digital Display on the Steering! oh my~ my Wira also Don't have T__T. i wonder who's kart is this. the Red Racing Queen ?? No idea...

Go KART race member. that all the Racing. group Photos. 15 racer, 15 laps, 1 winner, what's the grand price? Race Result sheet. you can bring that home LOL.



that's our Race Track! see the corner? yeah~ i drift there~ which 1? all of them :p , Oversteer,Understeer,Spin out. Successfully drift~ all in this race track!! absolutely COOL~
and expensive as well T__T



Some photo taken middle of racing, the kart on Service , and yellow kart is Safety car with 2 Steering. wonder why they need 2 steering. hahaha. who ever wish to look for more details, you can visit their website [CityKarting ].