here is it! my Wiwi is back! with new headlamp! and cost me RM1200 for the repair T__T.



Workshop :"Don'z, your car is ready to collect"


Don'z :"Cool~ how much is the repair Cost?"



Workshop :"your's will be RM7XX"


Don'z :"ok, that's sound fair..how much is the opponent repair cost?"



Workshop :"that Vios repair would be around RM400 as told earlier.. coz of bla..bla..bla..(start explain why so exp...)"


Don'z :"okay.. i'm fine with that,i'll be there tonight ."



Workshop :"Okay~ that will be RM11XX in total. give me a call before you come."


Don'z :*Shock!*" what the? RM11XX? i tot is RM7XX?"



Workshop :"RM7XX is just for your wira..cost the New headlamp cost XXX and the workmanship about XXX and paint XXX then Bla.. bla..bla..."


Don'z :"okay...T__T,can i bankin to u?"



Workshop :"sure, see you tonight"


Don'z :"yeah~see ya.."


let see.. what NEW HEADLAMP? here is it...

Black Crystal Headlamp. look better than Stock anyway. since also have to change. one shot change lor...this , at first tot of change projector headlamp...too expensive for that now.. need to bear 2 car repair cost. so.. i skipped... and luckily the workshop guy told me my bumper can be fixed, and no need to buy new bumper . beside.. the bumper i show below... gosh.. RM800 for fibre glass material.. too much for such material.. exclude paint.. ok.. i skip that also.. T__T else is a big big vomit blood.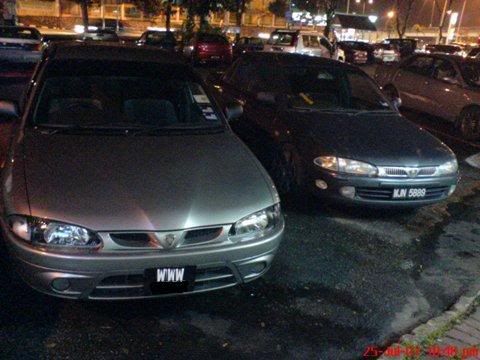 spot the diff?? not big diff.. want see big diff?? check my repair receipt.hahhaaha. nvm. as long my wira is back! ^^