Okay.. i'm VRM type of people. (Vegetarian Reject Machine) , there is a lot people ask me to eat green stuff! even some of them said "Donny won't touches anything with green colour".so...
Last weekend.. i went to somewhere to take my meal. and i notice.. something interesting when deciding my meal. check this out.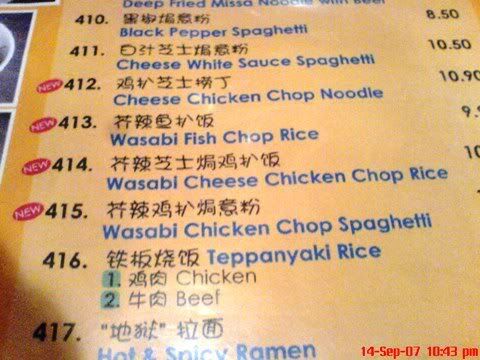 Wasabi Chicken Chop

????? are you serious?? will you eat ur chop till cry? what ever you do.. don't burst ur chicken chop on the person infront of you. lol. i tried the wasabi cheese chicken chop rice. the cheese coved the wasabi.. next time i gonna order the chicken chop spaghetti. question is.. who wanna sit infront of me? i treat. :P


then.. sunday.. i saw a funny menu that make me laugh. hahaha guess wat? this is wat i notice fromt the menu.


big wife 2nd wife happy family??(Chinese) i wonder what is that???


i personally like this 1 , have you read/watch the story of "journey to the west"??
hahahaha "SonGoKu Barbequed the Pork 8 NoNo". hahaha, it's just a satay actually. but i like the way they name it. fantastic!!creative!!


i endup with me. can you guess what is it?sorry.. my camera problem.. this curry is in lite green colour.!! yeah~

Green Curry with Seafood

. i just curious how GREEN is it. hahaha. for those who know me well. most of them ask me to eat GREEN things. and now i DID!! hahaha. wasabi is green as well!! muahahhaha.