Surprize No.1
Kanching Waterfall. haha we told her we will going to Sunway Lagoon, hahah then we end up in jungle. lol


Har? Sunway Lagoon? How come inside Hutan geh? hahhahaha.



Kanching Lagoon!. got water , got nature, got waterfall. hahaha , no jungle trecking la.



waterfall is fun. stand still. don't let the water wash you away.



guard the lady from sliding down. hahhaa



i like this photo. hahah why?
"wuwuwu, no present for birthday gal? i dive, dun stop me"
"i buy! i buy! dun dive, let go buy."
:P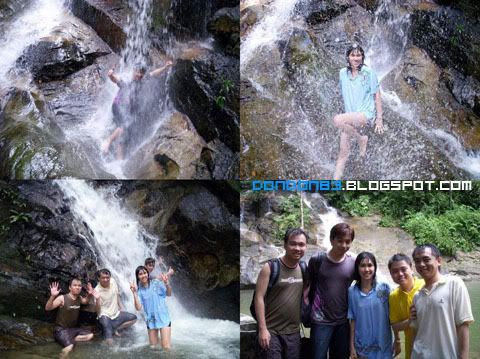 Suprize No.2
This 1 no surprize jor.. accidently leaked... haihz.. next station, Neway Karaoke Session!


ONE NIGHT IN BEIJING~!!!!!!! is the hottest song of the day. check it out! hahaha.


Surprize No.3
Next surprize? countdown for birthday loo. at The Curve PARADISE. which changed name from HALO cafe, where i celebrate my birthday back in 2005


see how happy Carole with the cake, can't wait to cut cut cut. hahaha. well.. i personally like the song performed by Paradise band, it Starting with "半斤八两" rythmn, then singing Happy birthday. then followed by "Oh Carol" , they mix it on the spot. that cool.



birthday girl and the birthday cake. and birthday present. the cake creammy rite? hehehe.