After Bukit Tinggi, we heading to genting highland.. yeah mountain again. hahah. one of my friend even mention to me.. "those mountain sure become your weekend spot"..i'm speachless...

Next destination of my birthday celebration trip. Genting Highland. from mountain to mountain. from bukit tinggi to bukit genting.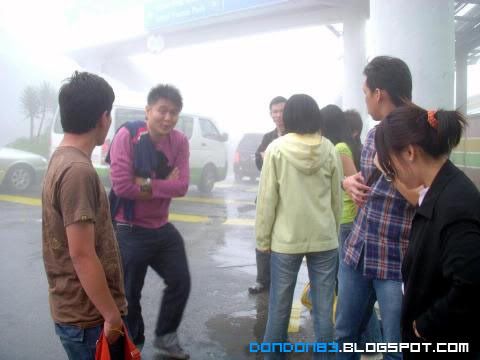 ice cold blury myst Genting. so cool to me , so cold to them. hahaha




the 2 previous birthday boy just received their belated birthday present.. haha yeah. on my birthday. hahha. a watch and a sub leather bag..hahaha



nah~~ i wish this could be my birthday present. hahaha. ok ok.. i'm dreaming.. haven't wake up. hahaha(don't wake me if i really dreaming. i'll bite!). yeah.. saw someone newly launched GT-R 35 up there.. pretty lucky. i saw the real car liao. awesome.. there is lambo gallardo back there. but this 1 more unique :p



Where's my present? erm.. i being told it shipping from HK wor(i doubt)? haha no idea. just wait.. first.hehe



Tonight is weng yi concert, and is joey fans meeting.. see how traffic jam down there..



yum Seng!!! Kam Min Toi games begins... on bed.....-_-.. the 2 liquor maniac absent tonight. that made me feel like i survive from being force drunk like the 2 birthday boy back in fraser hill. hahhaa. luckily Don got Pray Pray.



Next Country look n feel alike. China! . hahha, ok ok, just some where middle mount of genting highland.



a buddish temple feel hotel..erm.. have u ever think of sleep in temple? come here. if you like buddish temple. this place might be the best place for you to spend a night. i wonder their bed is it decorate with lotus flower... hahaha



memory piece on genting highland. gosh.. that glass of things... guess how many % of alcohol inside?haha.My birthday trip. i feel like went to 3 different country.. hhahaha
France --> Japan --> China.
poor guy world travel trip. hahaha. Thanks for the trip :p san fu sai.