BOMB!!! i'm received another RED BOMB.. gosh.. now days trend.. everyone play wedding. hahaha. anyway.. congratulation.. and this time.. i had to FLY all the way to Kuala Terengganu.
Everyone Can Fly~ i'm Flying~ all the way to Kuala Terengganu. being invited to attend Jen wedding as... Jimui.... (i want go opposite side be heng dai can ar?)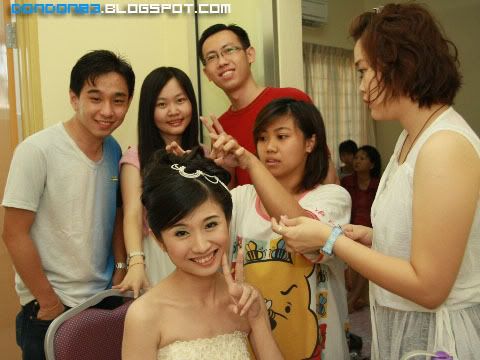 Waiting the Lou Gong to come. busy make up leng leng 1st wor.



Jen Lou Gong is here jor~ with the Civic!!!



To bad he cannot go in yet..."Open the door lar~ dun play liao lar~ Gat Shi almost over jor..."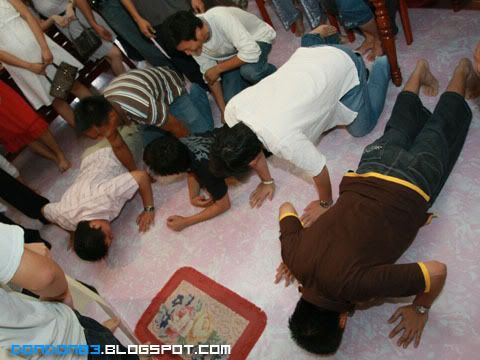 Heng Dai! come out! start pumping! 100 times wor.. (some pump jor 10 times.. KO jor..)



Finally! successfully bring his lou poh home. haha

Conghratulation!~!



yuuuuuuuummmm~~~~~~~~~~~~~Seng~!!!!!



Khai shen and Yen Jen.Dai goh lui lor~ got fur got wings lor~ fly till kuala terengganu summore. hahaha



IBAI Lightning center.. first.. i keep thinking.... why that feller use IBAI as shop name? then my friend told me..

Don : "IBAI shop? why the name sound so funny 1, seem like missing an alphabert infront."
Jen : "you're in IBAI now"
Don : "har? you mean this place call IBAI?"
Jen : "yalar."
Don : "so you all here are 'IBAI LANG' lor.."
Jen : (-_-)"......"
Seng : "LOOK! there is a 'Kedai Cuci IBAI' Car wash"
Don : "hahahahahahahhahaha....(laugh till almost can't breath..)"
Jen : "......."


(luckily no J infront, the place actual name is

Kampong Kuala Ibai

)






Playstation got Dual Shock, i got Dual SHOT, someone geh dSLR got 10Megapixel, my dual shot got 7+7 megapixel. hahaha. wanna see what photo snap with these 2 camera?

Question :

How you usually share a photo across handphone??? simple.. before use

RED (infrared)

now use

BLUE (bluetooth)

. how you share a photo across Camera?? SD card? CF card? Memory Stick? chek out how i share a photo from camera to camera.
.
.
.
.
.
.
.
.
.
.
.
.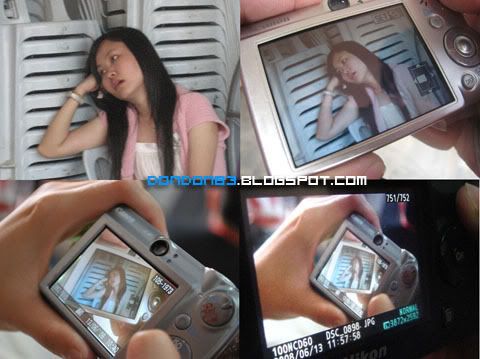 hahaha. she like to delete and i like to backup.all these photo taken while she trying to Delete. haahha, with different camera. hehehe. Am i bad to post her photo here? i think no rite? LOL.. (start running liao...)