i got myself a free 3 days 2 night staying in genting as a membership of World Card. since i will be spending 3 days in genting. will gonna explore more about genting. maybe some place i never been before? and it's MalaysiaDay, i will spend this day in Genting Highland.
Let's look at the
BRIGHT SIDE of GENTING HIGHLAND.
Genting Highland here i come. stop by roadside to take this picture. the glowing mountain. the casino that never sleep is located up there.
Genting Highland. now only i notice.. the Logo here did mentioned it's 6000 Feet high.. hmph...
Largest moon cake discovered.. and it's real!!hungry?? i believe this 1 can share among all family memeber's. you need a big family members to finished it. "yee ma gu jie all come eat yuet beng!"
Eiffel Tower in first world. located inside genting highland.
Roller Coaster!! i love this ride ! damn ChiGik!!! love the 360 degree turn. damn nice. but the queue always damn long..
Another interesting ride.. but far different compare to first time i ride on this.. changed a lot.. first time i experienced this. it was shoot u up and let it fall down back. which give me no chance to shout. and now.. they removed the "shoot u up" part. just slowly move up. and just a simple falls. the goos things is you can enjoy the scenery a bit longer. fantastic view up there. especially night time.
Eye of Genting??? hmph...
This is my first time playing Theme Park Go Kart. my friend used to called it "Practice Zone". why? caused the kart here is moving slow... compare to
Shah Alam Go Kart
.
now.. everybody can fly.. in genting.. erm.. feel it at least :p. feel hot? (well at least i did). ride on this, let the wind blow your mind away.. weeeeeee
antique car... petrol powered? no? but got petrol smell every time i step on the gas wor. no? artificial? hmph...Petrol powered Antique car. just the steering doesn't really doing it jobs.
Double Decker also here... it's a Restaurant.. purchase your food and enjoy it in this double decker. but we didn't.. kinda WARM in there.
that's Genting Theme park, my last time entering theme park was years ago!! something did change in there.still a great place for happiness.
Let's look at the
DARK SIDE of GENTING HIGHLAND.
we discovered hidden hotel? i never heard of this hotel. and can't event find it from Genting website.. it called "
AMBER COURT
".... curious about this hotel? let's find out more...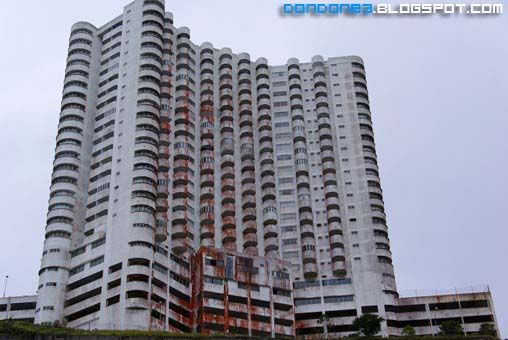 But when you reach another side of it... totally horrible!! blood!! blood!! blood stain on the hotel!!! OMG!!!! damn scary wei!! imagine you come to CHECK IN here during night time... another thing to mention.. there is NO STREET LIGHT along the road to this hotel. yes.. total DARKNESS!!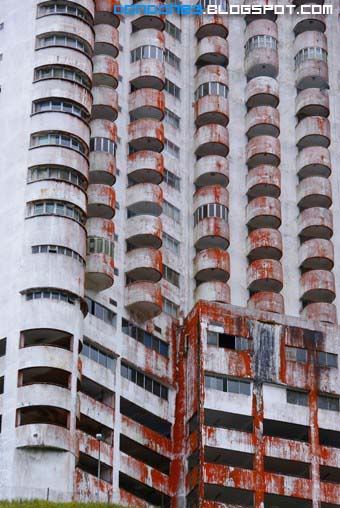 a close look... it's some soft of fungus... but since it in red.. it made this hotel more SPOOKY!!!
and even-though the building is old.. and can see most of them are forbidden for quite some time. but still some of them are well renovate. look like it still operating.. and some of the room still AVAILABLE, attached IF YOU DARE to stay here..
p/s: i'm not staying in this hotel. just curious and come here to check it out.. found it look more like a Haunted and abandon place rather than a hotel.