JUst back from
brotzeit
Mid Valley.. and i managed to buy myself something for Oktoberfest . i got the 1 Liter Mug! although not really the Oktoberfest Mug. but nvm. hehehe still got the
haha. Open Box for the OctoberFest Trophy :P. the 1 Liter Mug with the 1 Liter Can Paulaner Beer.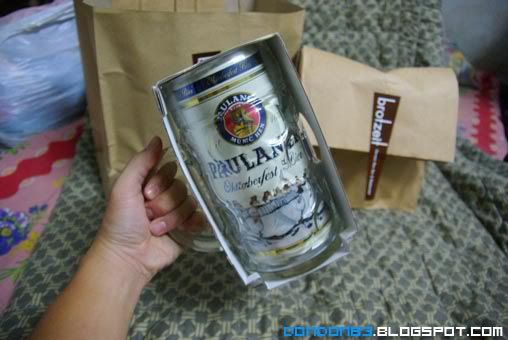 here's my trophy if the month.. from the month they celebrate October Fest.
200 years of Oktoberfest? hmph.. ever-since 1810.. cheers!
here's the 1 Liter can of Paulaner! really a big can.
see through the Big Mug.. erm.. does it look like your vision when you drunk?
that's all. missed the chance to drunk during Oktoberfest.. but still able to buy myself a big big mug :P