the first time i been to
Mount Datuk was back in 2009
. that time i didn't bring my dSLR along...but now.. i got it with me. here i come again .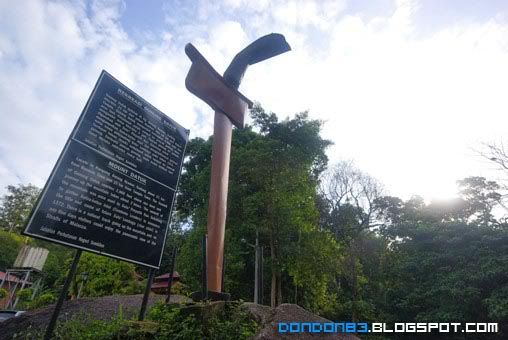 Gunung Datuk.. I'm Back! this huge KRISS was not here when i'm first come to Gunung Datuk.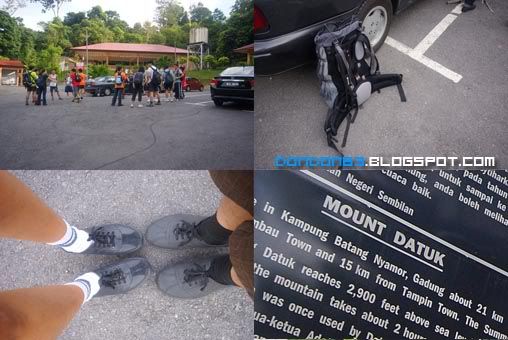 ok.. Mount Datuk.. getting ready. Alvin Organized this event.. and he loaded with 20kg with most of them are drinking water. ok.. salute your toughness
climbing.. inside of the forest. steep.. or i'm lack or exercise ?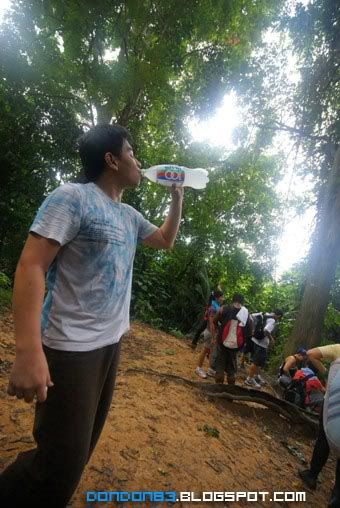 fuh.. quite some times didn't hiking.. and gained some weight.. having touch time hiking it..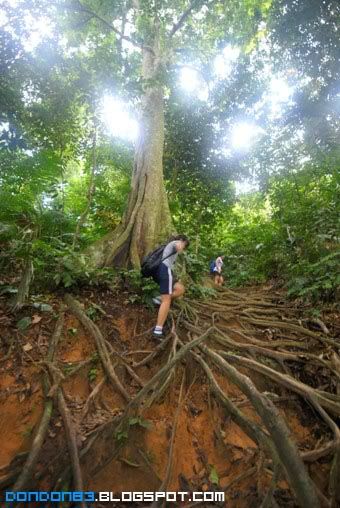 obstacles.. don't let your feet stuck here. hehe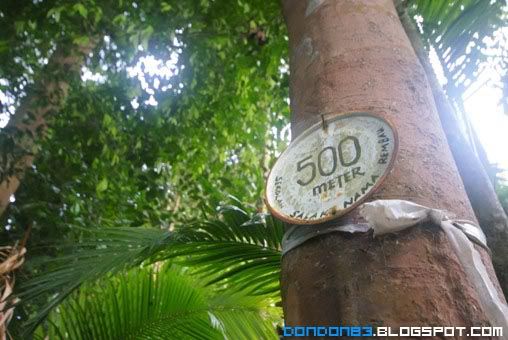 when afters hours of hiking.climbing. when u start thinking how far away to get to the peak? here some hint to motivate you. 500 Meters! common. we're almost there!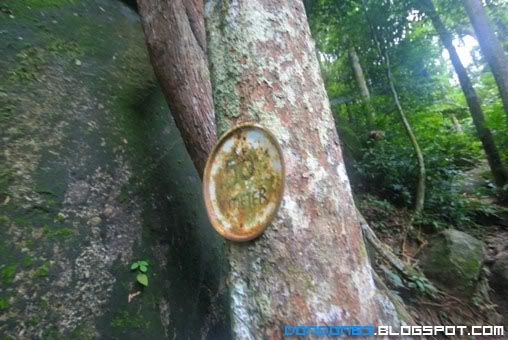 and when about to questioning how far left to reach the peak? another Motivation sign sighted. 50 Meter!!! fuh!!! we're a little bit more!! come, let rest at the peak.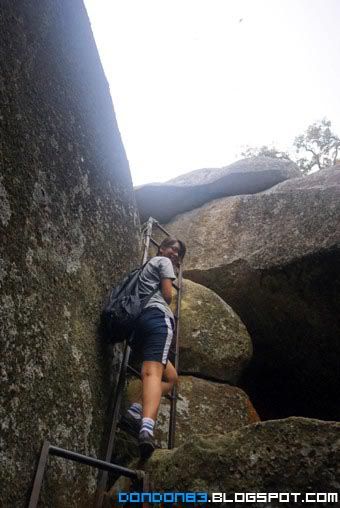 hahaha, here come those rocks obstacles...some ladder to climb.. there.. up there is the peak!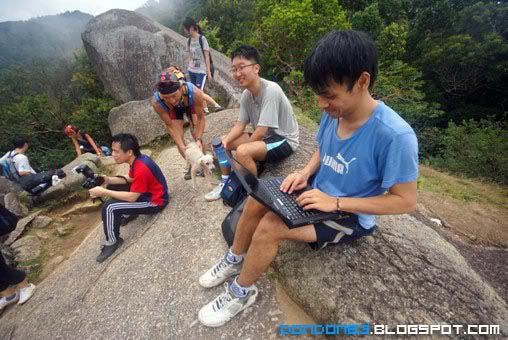 while waiting some others go climb up.. i was amazed by this guy!! OMG! Head of Support team!! really Professional enough!!! he carry his laptop all the way up to Datuk Peak.. guess what, Maxis Broadband is Covered up there XD. salute this guy.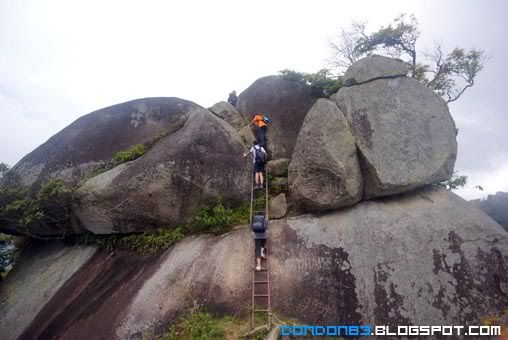 aiks... when you just finished the first ladder.. there is 2nd ladders up there.. obviously nothing on top of that rock.. guess the highest peak.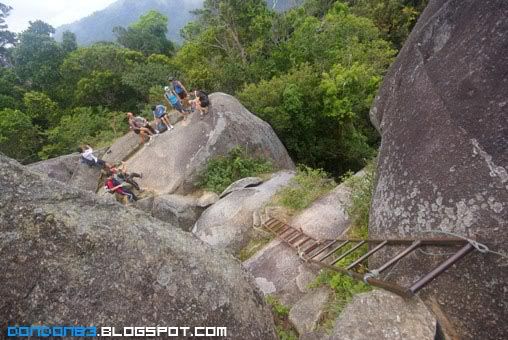 ok.. i climbed up the ladders. i hold my camera, look back.. and i got this picture..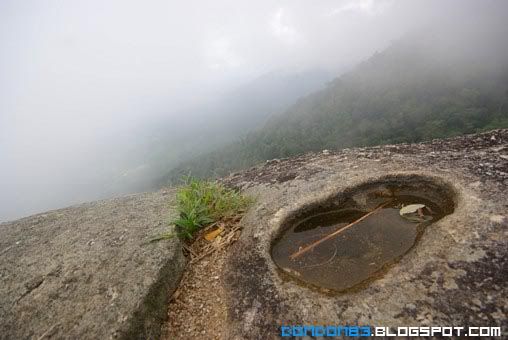 the Hang Tuah Foot Prints.. hmph.. what he doing here and what the story that Gunung Datuk related with Hang Tuah Foot Prints? no idea.. someone told me that's the foot prints of Hang Tuah.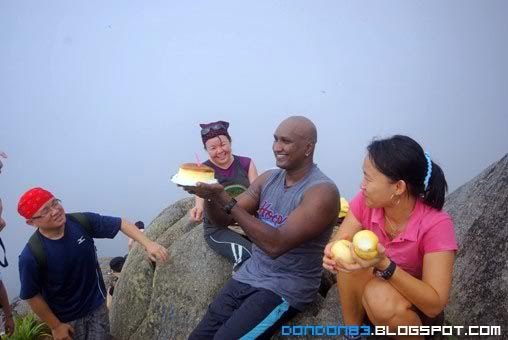 wow.. someone carried cake up there for someone as surprise birthday celebration. and i heard the lady added a phase "i carried the cake all the way up here for you, now is your turn to carry me down to the starting point". *GLUPS*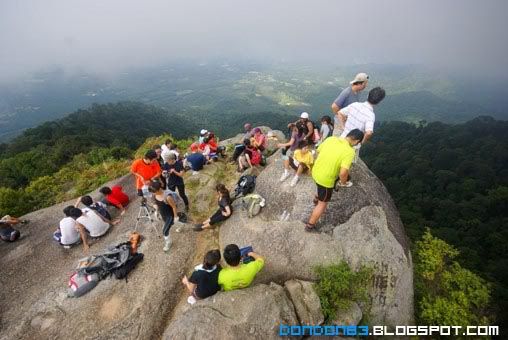 stunning scenery up here. too bad is kinda hazzy and cloudy..can't get a far far away view from here.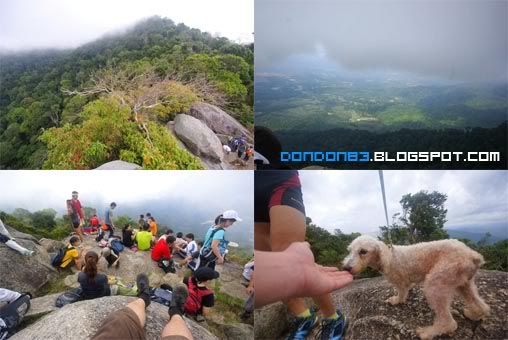 some view up there at peak of Gunung Datuk. guess what... this puppy climbed to the top of the mountain as well. so many Unexpected case today on Gunung Datuk. Professional Support guy, Surprise Birthday and a Hiking Dog. hmph..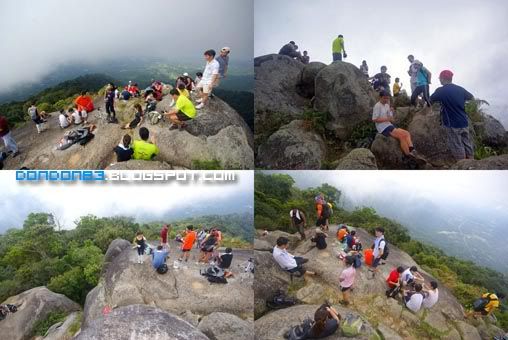 more view around the Peak of Gunung Datuk. on top of the big rock.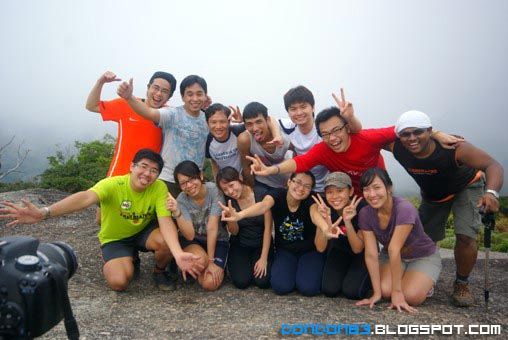 the Alvin organized group to Gunung Datuk. thanks him for organize this event. so i can get test my Ultra Wide Angle Lens Up there :P
Okay.. that's all for Gunung Datuk.. wait.. do you ever wonder about Gunung Nenek? does it really exist???
it DOES exists!!! it called
Gunung Nenek Semukut
! located at Pulau Tioman. sound interesting ?