Thanks for waichee and yeap yap for the invite and free ticket to the show :). i have no idea who is Mr.ROCK at first, after that only i know this is Jam Hsiao a.k.a Mr.Rock, or Encik Batu(jk) Concert. hmph...this is my 2nd concert show in a month.:)
Early entered to the hall in Bukit Jalil Indoor Stadium. since is free seating, early bird got the good seat.
hmph... there is some Chess decoration on the stage. look like the stage decoration is awesome.
The concert almost Starts. hooray~
Mr.Rock really bring out the Spirit of ROCK and ROLL.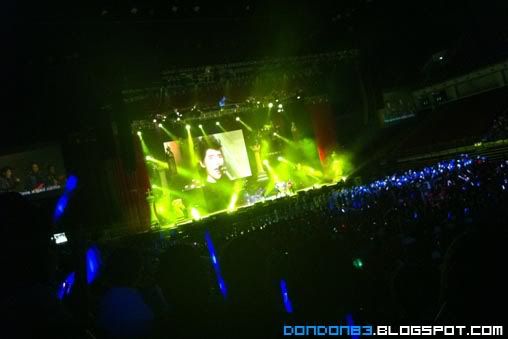 James Xiao really a shy? or less words guy. whole concert.. he just keep singing..
There is a Session the organizer play the video of james xiao received special training to make him speak more.. but misssion failed.and it place a paper board of james siao on stage, and playing the recorded message for his fans. but still.. 2 minutes is tough for him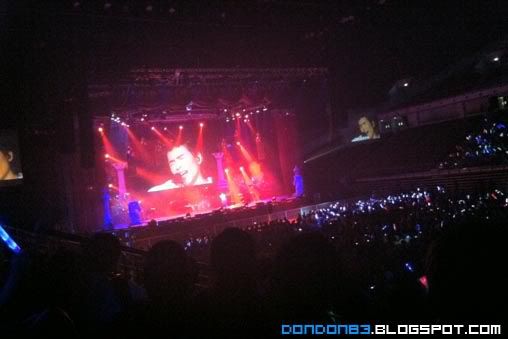 after the message playback is finished, he's back with new cloths and continue his singing..
he really speak less, most i heard is yelling at his fans "eiiiii", "oohhh" then start another new song :S
But once he got her music start to play, and the min in hand. he become totally another person.
Although i not real fans of him, but i still like some of this song. and in this concert, he sings a lot of others singer song. which is great :).since my seat is kinda far from the net, and i dun have my camera with me.. so all i can do is capture with iphone...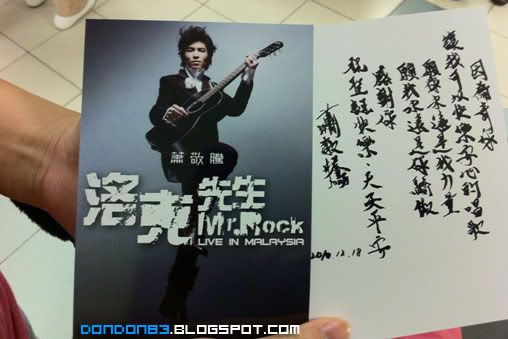 Before we left the concert hall in bukit jalil, the crew pass us a card.. which wrote the message from Jam Hsiao for all his fans. it's his real writting. but being photostate. haha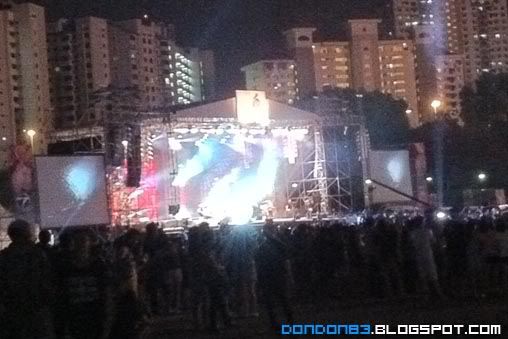 ok.. after end of the show, i heard there is another concert around, yes, it's the Shi Fen RED, concert. 2 differnet concert held in the same place.. guess what.. Jammed Till Siao (Traffic Jammed Till Crazy).. like the MrRock real name Jam Hsiao.
That's all for the Mr.Rock Concert Live in Malaysia. :)