I've been waiting for exprience Nuang Mountain hiking for quite sometimes. and i finally did it. thanks to Dexter who organize this hiking trip.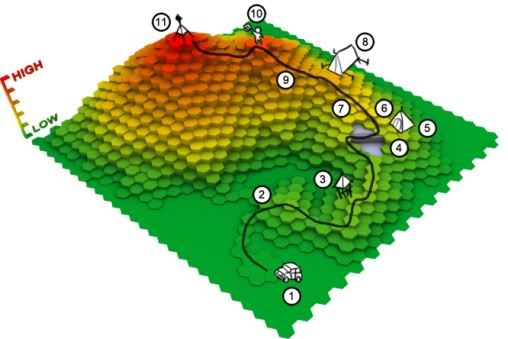 Gunung Nuang can be divided into a few major sections:
1. Entrance/Parking
2. The long gruesome walk
3. Rest point
4. Dam
5. "Lolo" camp
6. "Hut" camp
7. Mid-mountain push
8. Mid-mountain campsite - "Pacat" camp
9. Summit push
10. The "fake summit"
11. "Nuang" summit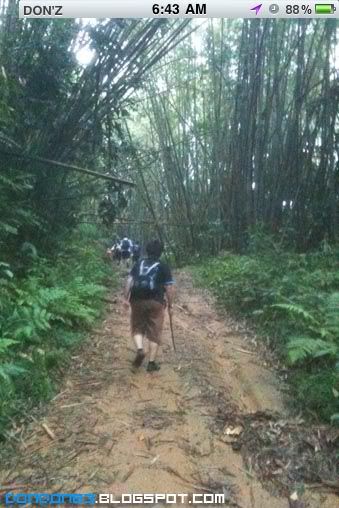 Our journey Begins at around 6:45am in the morning. we all carried touch light with us, cause the environment still pitch dark when we start. this pics is taken while the day is beginning to Britten up.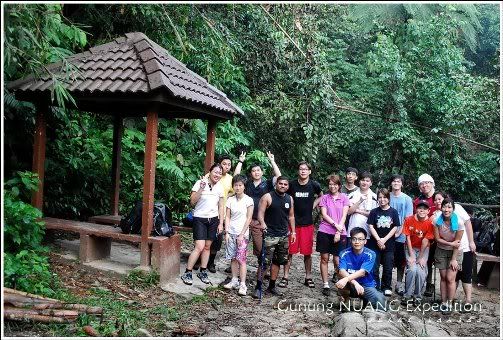 we reach the first stop. the Rest point (3). take a group photos before continue further.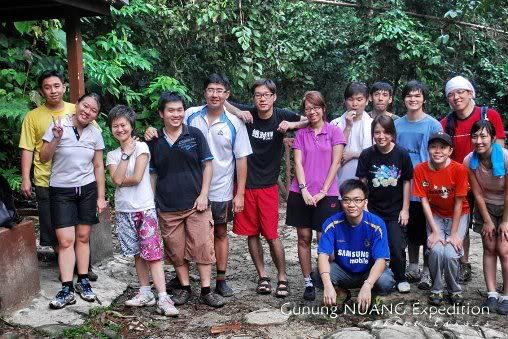 the group of Nuang Mountain Challenger. there are 15 of us.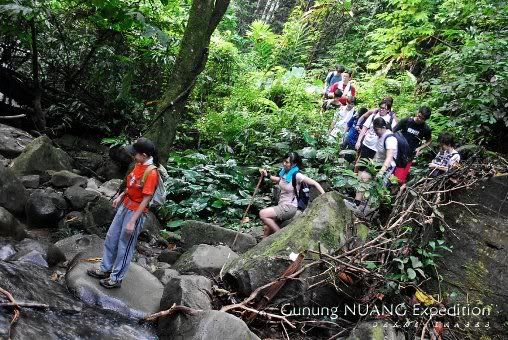 groups in action. moving in a team.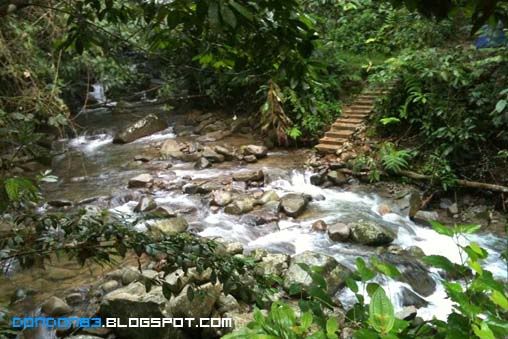 there's no bridge.. but a staircase.. guess we need to take the hard way. river crossing. this water is very shallow. so need not to worry about his.
see something behind there?we passing by the damn, and i believe that the Dam(4) operation room back there? covered with green's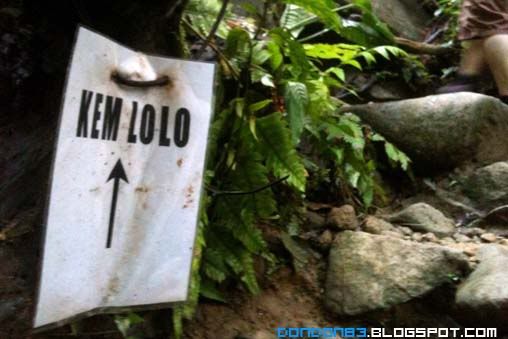 after a while we passed the Dam, we saw this sign... oh great!! Kem Lolo this way.. and mean we're near!!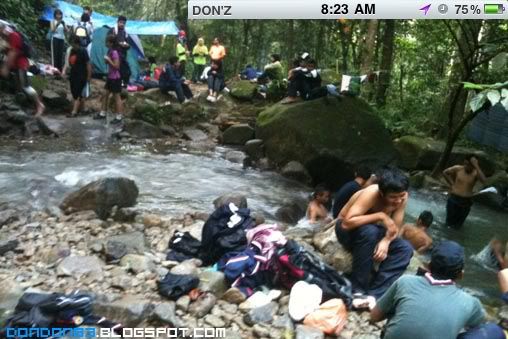 wow.. there's lot's of people's here. they all are scout from some school. camping here at Kem Lolo (5). we're are not alone in this Nuang Mountain. and it's around 8:30am now. nearly 2 hours hike, and the real challenge begin's after Kem Lolo. gonna be ready for that.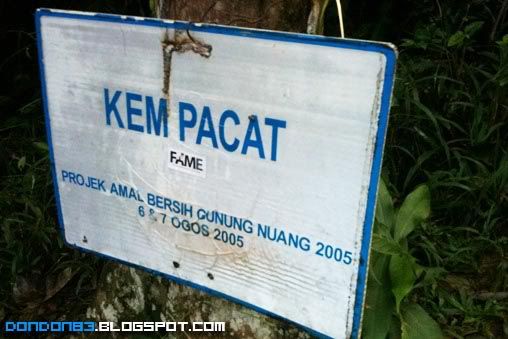 nothing interesting along the way. untill i saw this sign.. woohooo.i'm at Mid-mountain push(7)!! which is very near to Kem Pacat!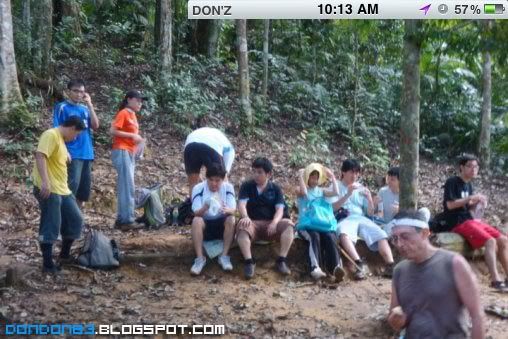 here we are at Pacat Camp(8). another Camp Site. seem like no one start their camp here yet. oh.. i'm here around 10:15 am, rest a while and continue to reach the Peak. don't let your body cold down.. start from here. i begins to face some leg cramp. begins to slowdown my steps. :(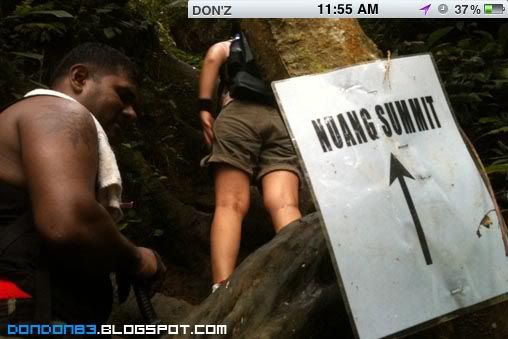 after depart from Pacat Campsite, walk for around an hours.we saw this!! wooo, Nuang Summit!! we're near!!! don't too happy with it. it's the Fake Summit(10). just a rest point i can say.. it's not the real summit.. it's around noon now.. nearly 12:00 Noon. ah... just the fake summit.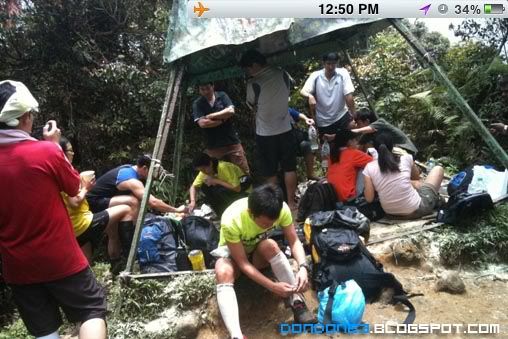 another roughly 1 hours hike. finally.. i reach the Nuang Summit! and this is the real summit. yoohooo!! i did it! it's nearly 1pm now.. craving for food!! eat what ever i got!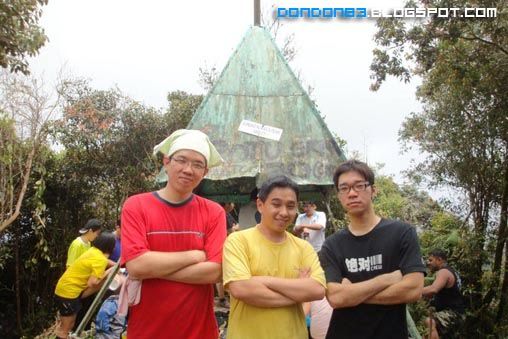 3 mah lat lou photoshoot at Nuang Summit :p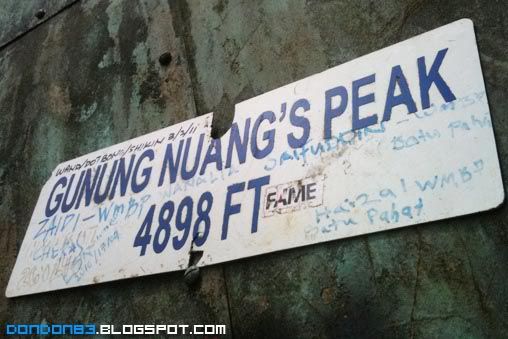 the Prove of Nuang Mountain Peak. it's say 4898 FT. wow... just wonder why peoples like to vandalism on this place.. to proved that they were here? anyway, that's typical Malaysian.. kinda sad with it.
more environment photo shoot around the Peak. someone actually bring up TangLung to here. for celebrating Chinese New Year?? and there is a portrait of a guy here. i wonder who he is? i have no idea who he is. could anyone tell me?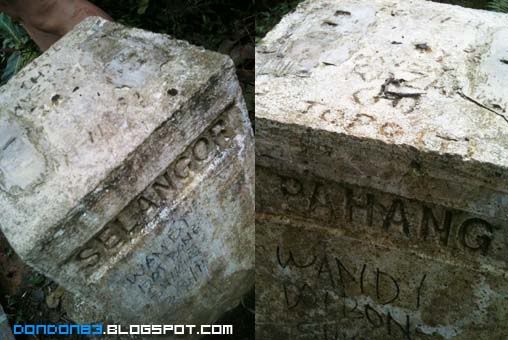 and i notice this Stone!!! look at it! it's actually the Borderline of Selangor and Pahang. which mean.. i'm 1 leg stepping on Pahang ground and another of my leg stepping on Selangor Ground . doesn't that sound cool :D. hehehehe okay, maybe to me. after that. we're heading back to where we come from.. i start heading down at 1:30pm. better go down early else u will still in jungle when the sky turn dark.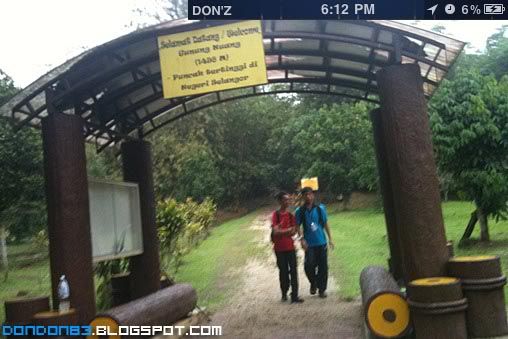 look at the time... it's almost 6:15pm when i reach this Entrance (1). due to heavy rain while coming down.. there is no photo taken along the way.. my journey to Nuang Mountain is consider Complete now. oh my gosh!!! it took me nearly 12 hours to complete the mountain hiking. from 6:45am to 6:15PM. but i had a great experience :).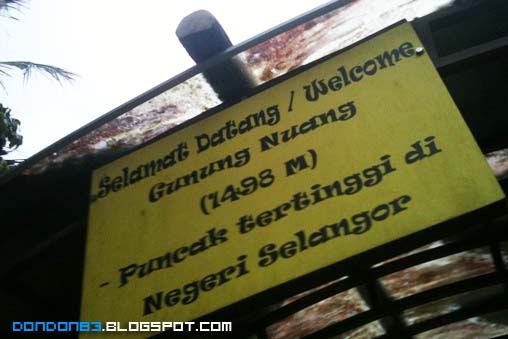 and for you who don't know.. Nuang Mountain is the Highest Mountain in Selangor. okay.. i conquered it! happy happy XD. add Nuang to my achievement list :D