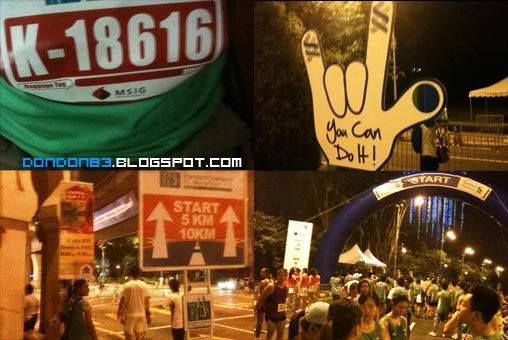 My dressed with green singlet. numbered tag on, running shoe on. standing at the starting point.. i'm here!!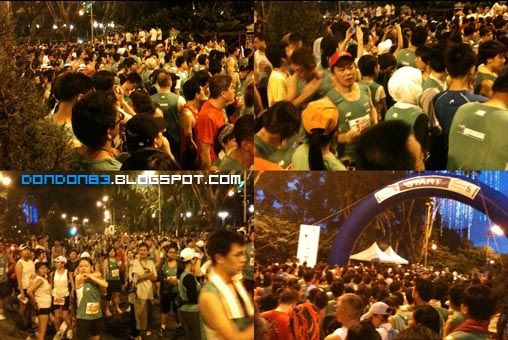 almost start.. and look at the crowd...
going to start! still dawn.. i'm ready for he run.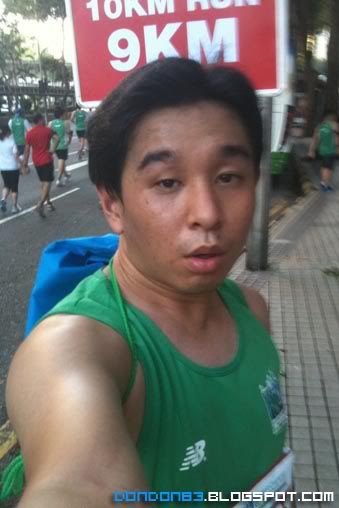 i'm finally make it to the 9KM out of 10KM! almost there!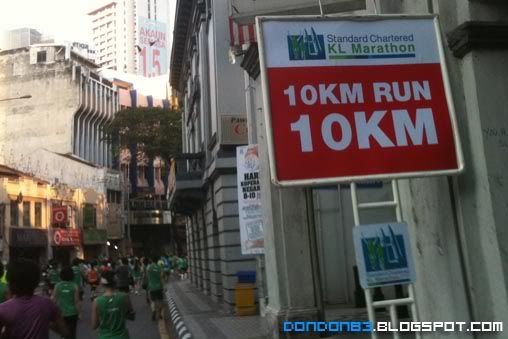 EH?? 10KM i though is the FINISHING line!?!?! why still running geh?? after a while more only reach the finishing line...check the guidebook later on, it's 10.6km...
just passed by the finishing line. i notice there is a big screen live broadcasting the runner passing by the finishing line. aiyaa.. who got record down the moment i passes by ??
oh boy oh boy!! is time to collect the Medal! very excited! heard only given to those who finished within 1 hour 30minutes.
my medal! wait a minutes... banana? haha, jk jk, just a fruits for runner to regain energy, it's in the bag. and a 100plus too.(finished b4 taking photo)
this is the Real Medal i got! yay!!! so happy with it! XD. i made it!!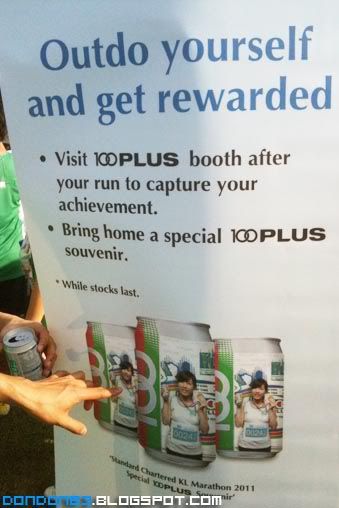 suddenly i saw a banner . ooh? a photo of me with the medal on a can of 100 plus? that sound good.
so i join the queue.. and here the nightmare start... at first there field was crowded.. and i can't see how long the queue is.. i slowly know how long the queue is as time pass by.. for your info.. i queue for 1 and a hours for this can of 100 plus.. yes! i can finished another round of marathong if i still capable...
here is some sample 100plus. look unique..
my very own 100 plus.. Donny Tam limited edition XD. 1/1. not for sell not for drink :p. it worth 90 minutes waiting time...
and when i check back the marathon iphone apps, it recorded my finishing time.. it stated there 1 hours 25 minutes 27 second.