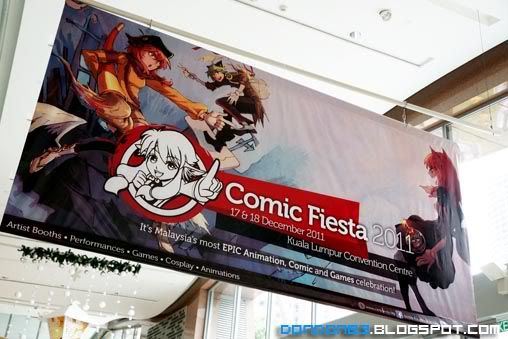 Comic Fiesta 2011. this year, they held in Kuala Lumpur Convention. cool, i can go there by LRT.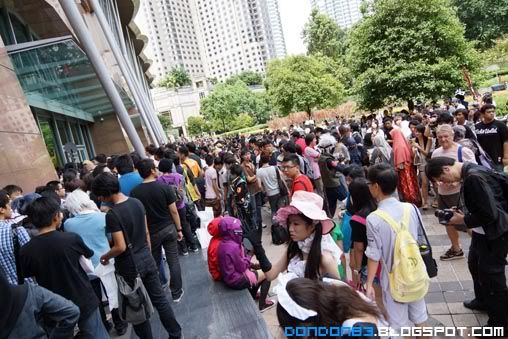 and this year.. seem like cosplay getting more and more famous.. like a trend already. look at these people.. they mostly here for the comic fiesta. and guess what.. most of them stucked outside.. the hall is FULL!! oh my gosh?!
so we end up walk around outside of the KL Convention Center. and i see the lego brick-man..
eh? this look familiar, it's luffy from One-Piece..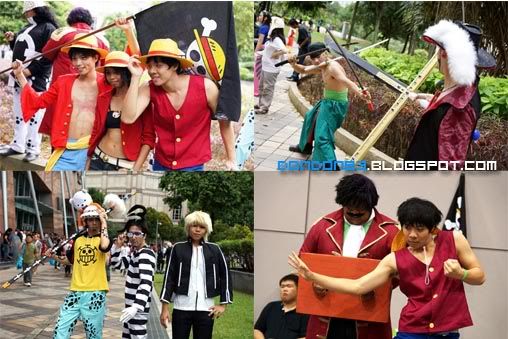 th One Piece Cosplayer.. omg... 3 different luffy. and also lady luffy.
One Piece Group Photo..
erm? she's asking for a date? anyone?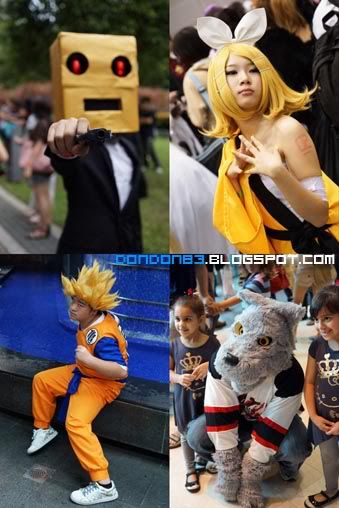 the box guy just scare me off. i ask for photograph, and he take out the gun and point at me oO". there also some classic anime character here. the Son-Goku from DragonBallZ.
here come the Naruto cosplay. do you recognize them naruto fans?
and blade blade blade, sword sword sword. Final Fantasy Cloud Huge Sword.. Bleach Ichigo Blade. and can see, some of them is custom made..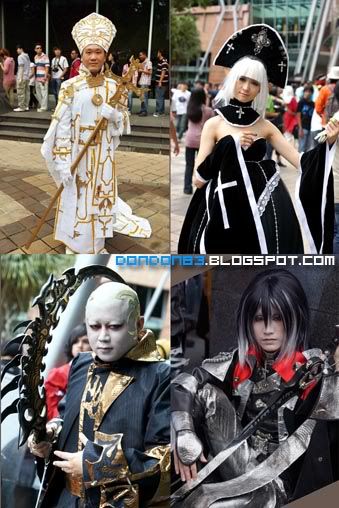 some character i have no idea where they belongs to.. from some online game i assume?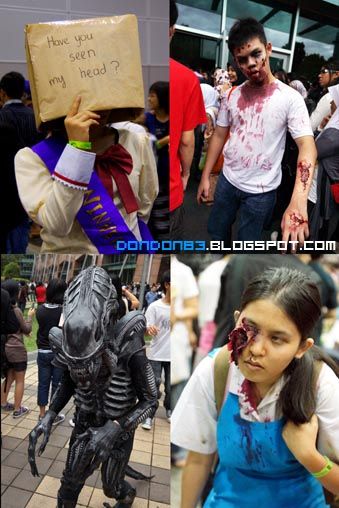 someone lost his head.. could it be any of these 3 have it? hmph.
the Mario Girl!!! and i can't believe there is a Baskin Robin 31 (ICE CREAM) girl cosplay as well... she must be love baskin robin ice cream very much.
colorful... but no idea who are they..
this 1 is know.. the sailor moon. is everyone there? hmph.... okay. that enough for outside KL Convention Center, i guess i need to find a way into the hall.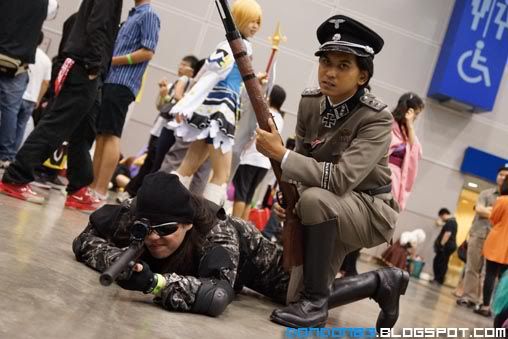 now i entered the Convention Hall, someone welcoming me with a sniper.. gosh..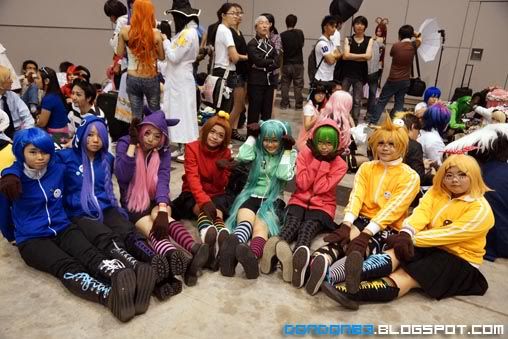 still... i have no idea who they are....
some superhero i meet.Batman, Batgirl, Captain America and... i forgot the blue guy name...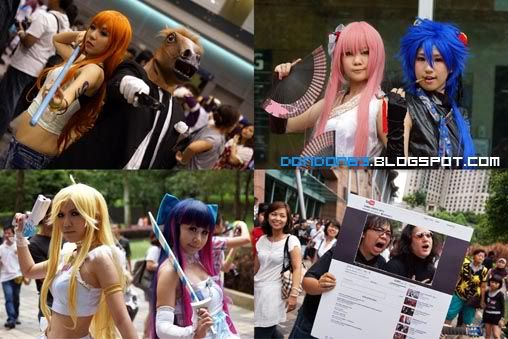 and more cosplay.. youtube guy?
pose for the group photo. from some Online Game?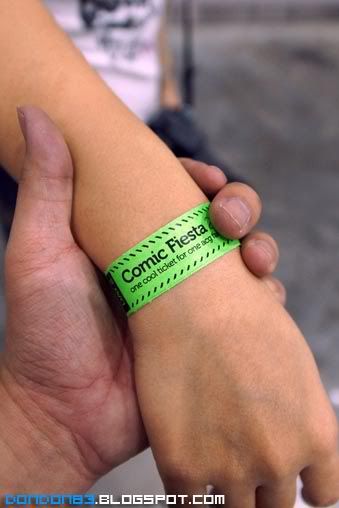 okay.. let go into the Comic Fiesta Hall. need ticket for this.. RM15 for the entrance..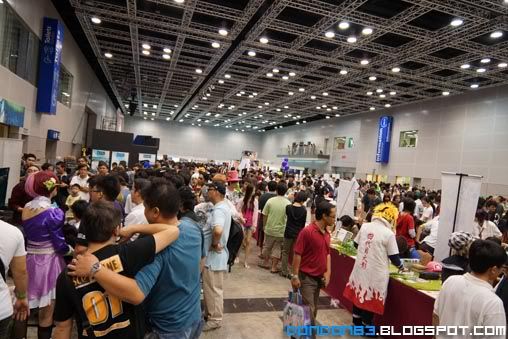 this is how it look like inside the Comic Fiesta hall. they mostly selling stuff here. their works. their crafts.
hey.. guess what i found? this is Final Fantasy VII advent Children. it's Cloud Strife Busted Sword. so cool. wood made.
and saw someone working on some drawing.. amazing stuff..
haha. this is how Malaysia Hero look like...
something is happening on the stage?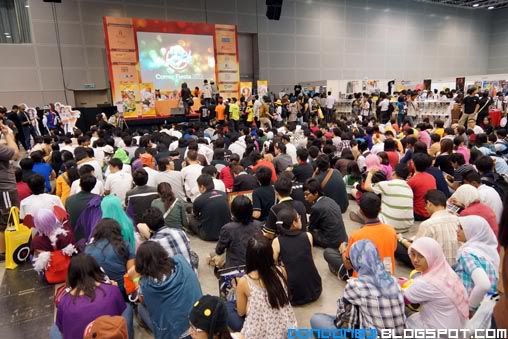 are they all waiting for a show? all waiting patiently.. hmph...
haha. i found a funny hat. just for photograph :)
oh my gosh! i found DON!!! hahaha. same name XD.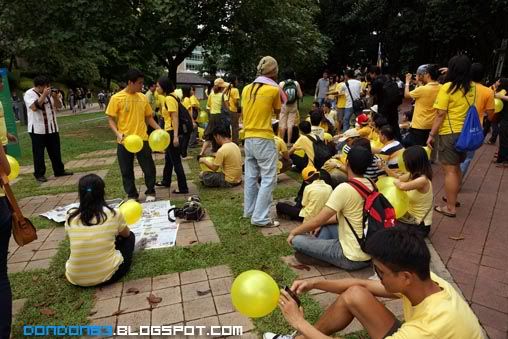 beside that.. there is something else happening around... the Yelllow Group. gathered for something here...