i never been to tanjung sepat before, since today is a holiday, i joined some of the sampative folks to pay a visit to the bao village. heard their bao is delicious, it is true? only one way to find out. let go.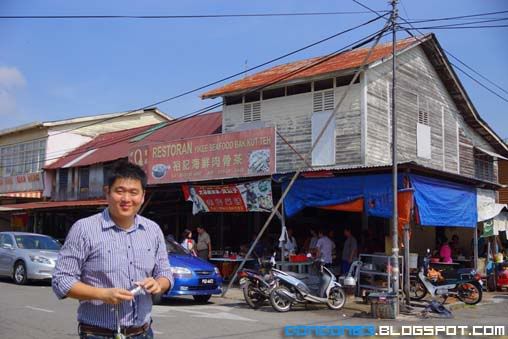 we're not directly headed to the bao.. we first stop by this wooden shop house for our main course of the day. guess what?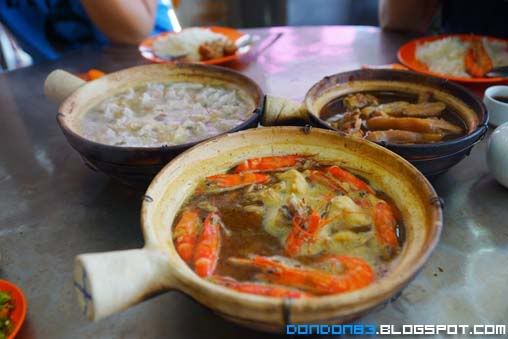 Bakuteh!! and this is no ordinary Bakuteh, it's Seafood Bakuteh.. sound weird? i hearing this for quite sometimes, at last i got the chance to try it out. the right side of clay pot is traditional Bakuteh, which only pork. left clay-pot is clear fish paste soup. the seafood Bakuteh is very nice. but if you didn't mentioned its Seafood Bakuteh, i probably never know it's bakuteh.maybe the seafood taste covered the herbal taste. but conclusion is.. ALL NICE!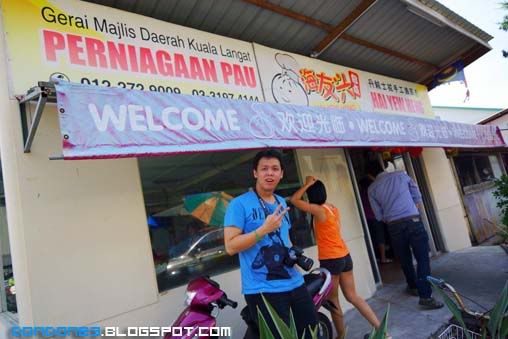 finished the maincouese let's go grab some light food, the local delight. BAO! and here is the place.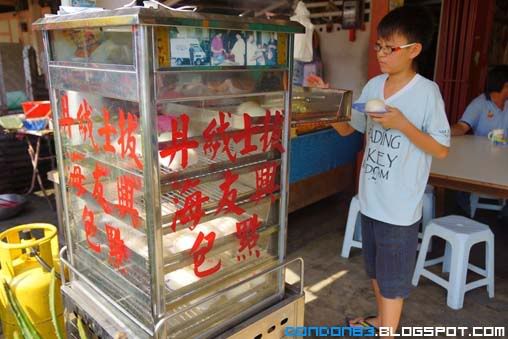 Bao Bao Bao..Tanjung Sepat Bao. wait.. No Dai Bao(Big Bao), no CharSiew Bao, huh? only got Shang Yuk Bao(Pork), rest of it is like Mui choi Bao(Vege+Pork), Kaya Bao, DaoSah Bao(Green Bean), vegetable Bao, and Peanut Bao. kinda out of my expectation.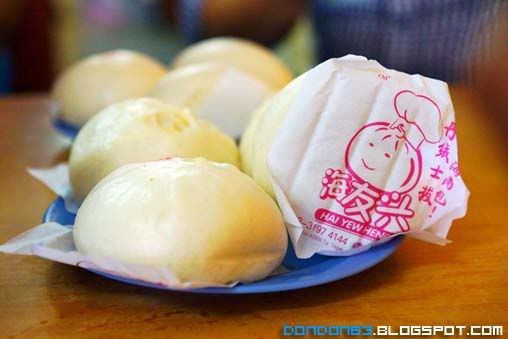 and here is the BAO! they printed their logo underneath the Bao, good advertising method. we order all type of Bao, too bad not all variant are available.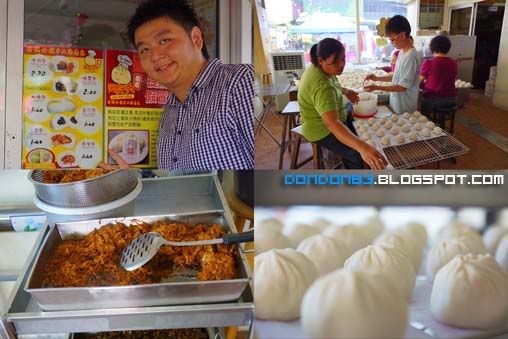 finish our bao's, enter the shop in front of the restaurant, we find the factory of the bao's, where they make the delicious bao here.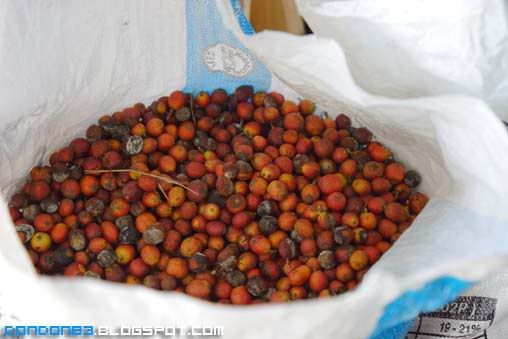 finished our lunch.. and now we headed to another local famous stuff. the KOPI.(coffee). and this is the raw coffee fruits. the coffee bean are inside this fruts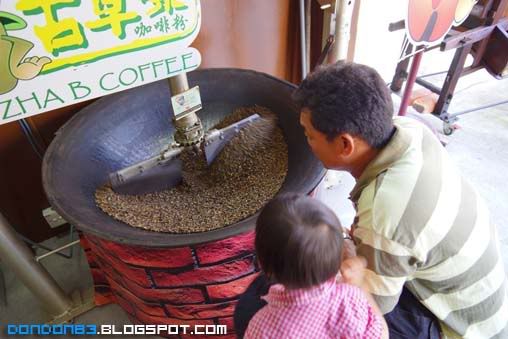 and here how they process the coffee bean, fry and dry the coffee bean? hmph...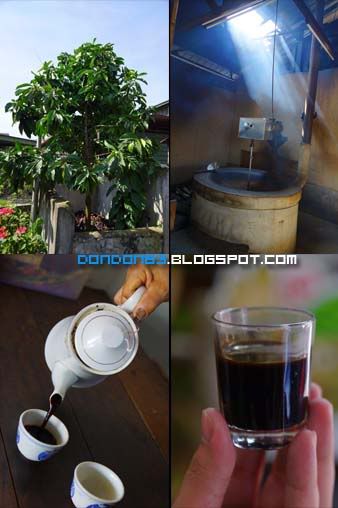 and somehow, we walked into a coffee processing factory(sort of). and the owner of the place is a coffee specialist and very professional. he explain to us how he process the kopi taken from kopi tree, filtering, processing, and at last turn into coffee drink, and also explain the different between them. best past is, we got some free coffee :)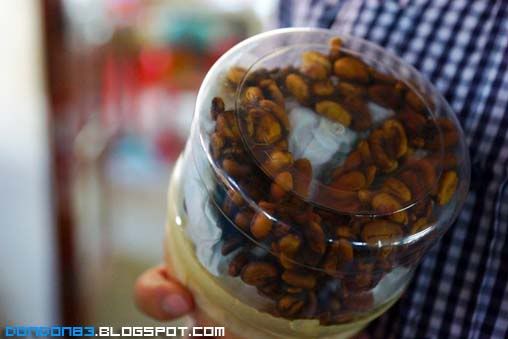 and this bottle really surprise me.. i never know they got this in malaysia.. what is inside the bottle? i can tell u. that's is a SHIT! you got me right. it's shits of
Asian Palm Civet
. and this is the coffee bean of World most expensive Coffee. the
KOPI LUWAK
. and he explain the type of Kopi Luwak!! made from Wild Palm Civet and pet-breed Palm Civet. the price ? RM200 a CUP!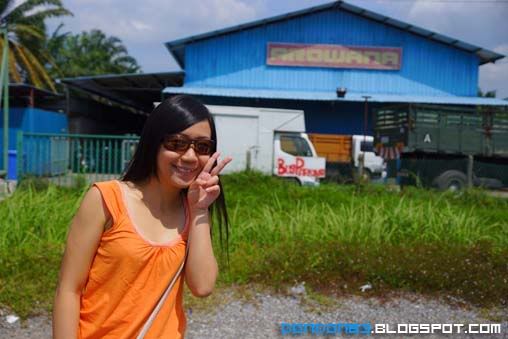 finished the coffee story.. and we move to another factory.. Arowana? fish factory?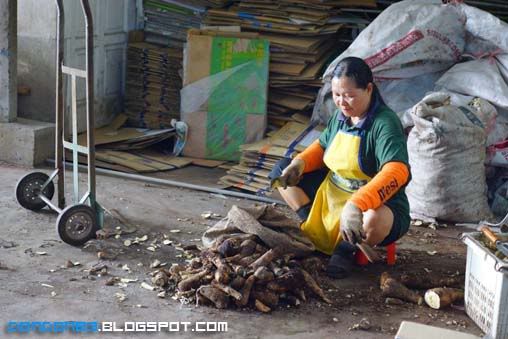 no, it's not! that Cassava,
and these are Cassava crackers. oh boy!! that's alot of them, no dear.. u can't have it all.
and she wanted to get a packet of Cassava Crackers. and only one... that's the one... 3KG! seem like she got herself a new pillow..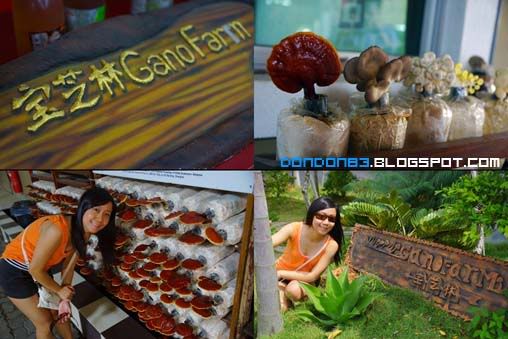 then next is GanoFarm. Mushroom farm. funny is their Chinese name written exactly same with "Poh Chi Lam". the Shop owned by
Wong Fei Hong
. but this 1 is all about mushroom.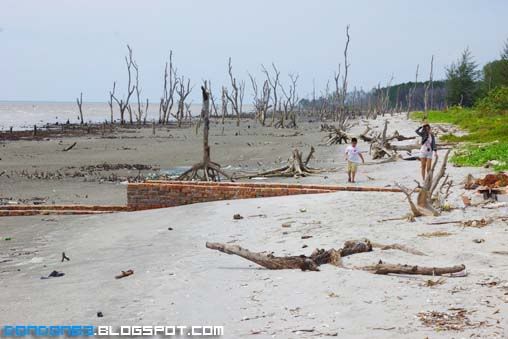 walk further down.. the beach is here. a lot paya bakau here.
and there is a bridge. but this is not the lover bridge.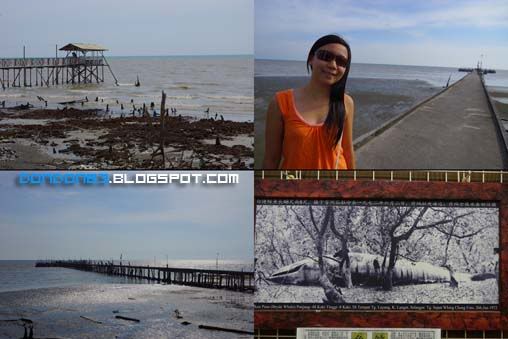 more photo of the place. guess what.. there was a whale spotted here somewhere. long long time ago. and that's the photo as prove. wish i can see a whale with my own eyes. someday...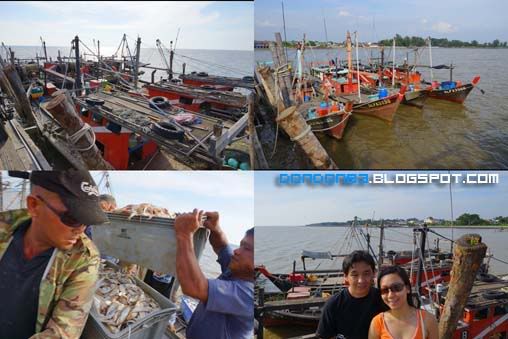 okay.. here is the true lover bridge. and look like more like a port to me. unload fisherman catch. and fisherman boats..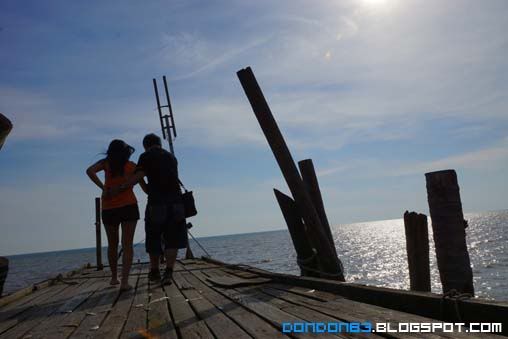 but because we're there. so this is the lover bridge XD. okay. that's all for tanjung sepat. hehehe.