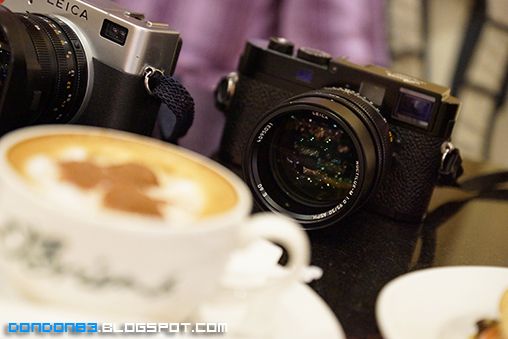 i'm being summoned by my friend to test out the Leica M9-P paired with the Noctilux 50mm f0.95. that's the flagship of leica M series.. at the moment.. yeap.. i mean the range finder camera and the lens.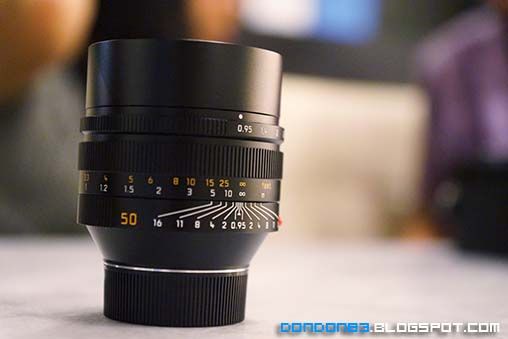 This is the Ultimate Low light Lens available from Leica. most of our dslr camera nowdays limit's by f1.4, and canon managed to come out with f1.2, it canon made u wow. think again.. leica managed to bring it to the f0.95... and it can be yours. with like less than RM38,950.00. from
Shashinki
. or USD 10,995.00 from
B&H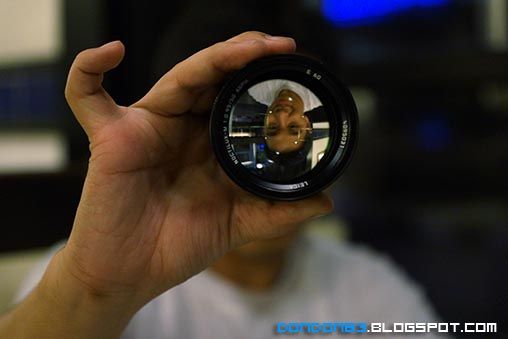 and check out the huge chunk of glass with it the ice cold metal barrel. it's very solid and heavy.
a perfect match for the Leica M series.. the ultimate dream machine. let do a maths here.
Leica 50mm f/0.95 Noctilux-M Aspherical
(RM 38,950.00)
Leica M9-P Digital Camera
(RM 29,999.00).
ouch... that's almost RM 70,000!!!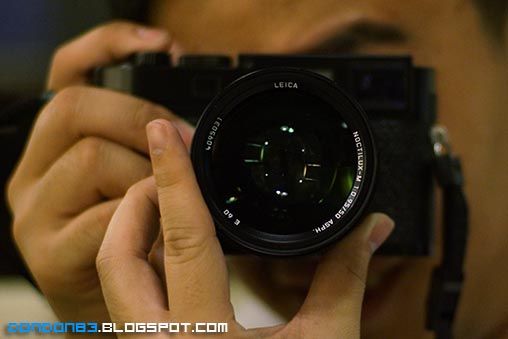 pose pose, me with the Leica M9P and Noctilux 50/0.95.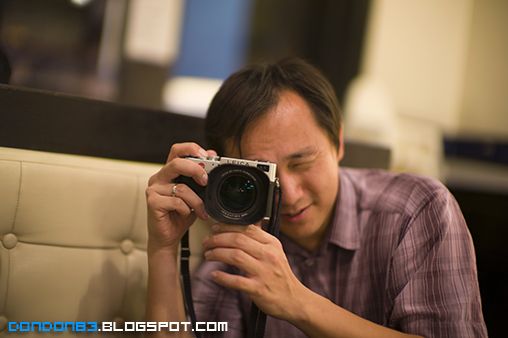 i did shoot few shot with this leica combination. and this is 1 of the sample photo.. that's his Leica Digilux-2. shot with f0.95.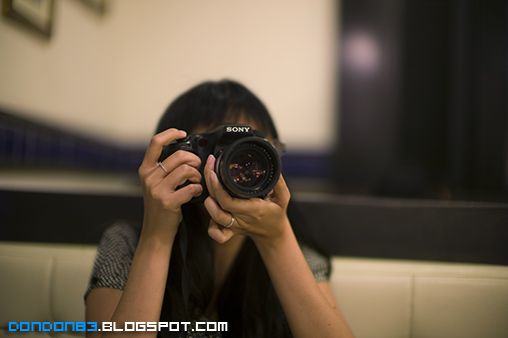 another sample photo of f0.95 , and that's carole with my Sony a77 with Leitz Summicron-R 90.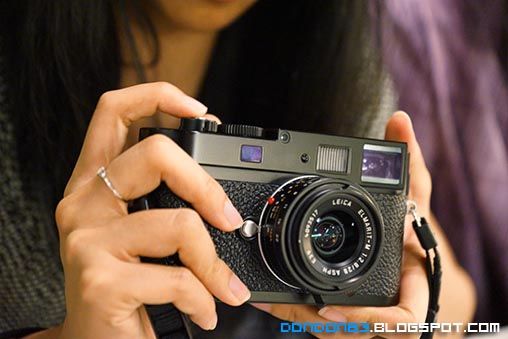 there is another lens he borrowed for some review. it's the Elmarit-M 28mm f2.8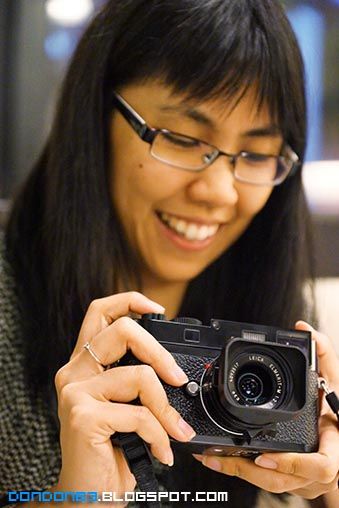 carole said the lens is very small and look cute on M9-P, after see most of the time mount with the 50mm f0.95.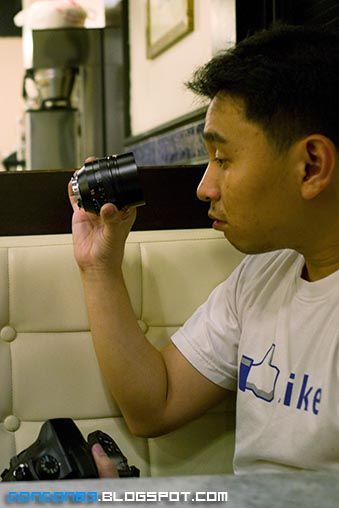 i wonder... can i use with with my Sony a77?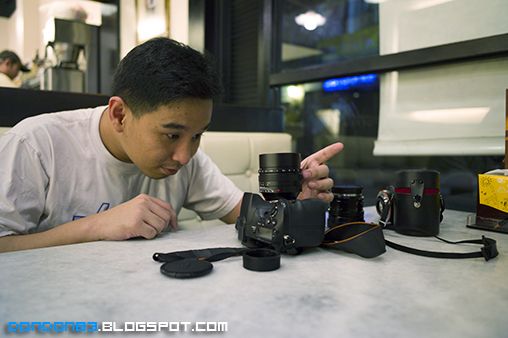 let's give a try. yeah i know it won't work.. just wanted to see how it look like.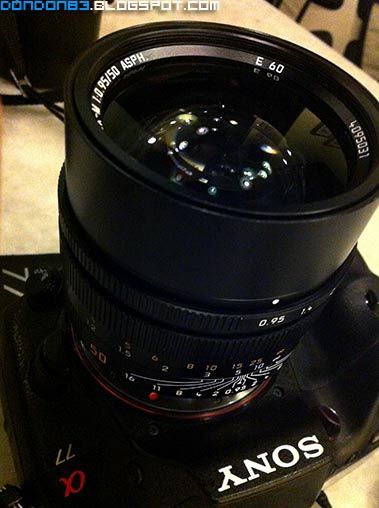 tada~ Sony a77 paired with Leica Noctilux 50mm f0.95.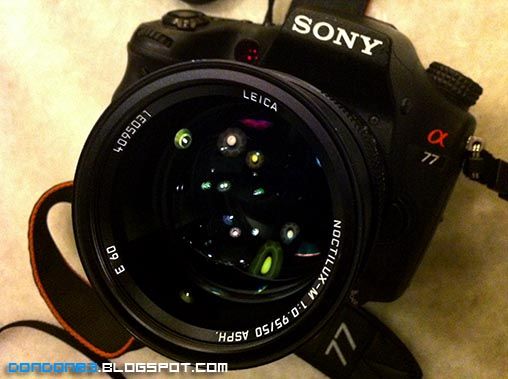 look great it this really possible on my a77. hehehehe. dreaming....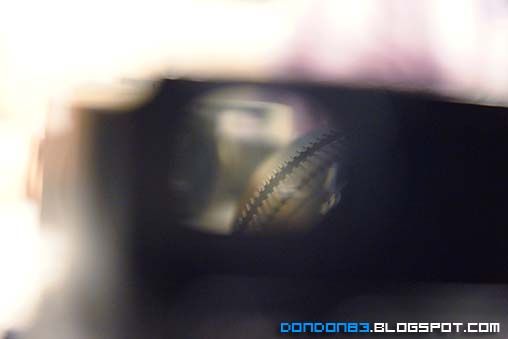 by the way.. notice Leica Range finder is not an easy camera to use.. a lot of manual and skill required..yeah.. this nearly RM70,000 combo doesn't come with auto-focus. no zoom lens.2 frames per second? worst... when mounted with the Noctilux, check out the view finder... the lens barrel blocked almost 1/3 of the view finder.. and my friend told me it get worst if you shoot vertically..while your left hand holding the lens... try imagine... but most of the leica owner don't bothers all these. people say.... first photo always special... so i share my first photo i snapped with this Leica Dream combination... tada~~~ perfect white from leica M9P Noctilux. why? cause the moment i press down the shutter.. then only i noticed the lens cap is still on it.. so i take it off... and the shutter still go on for ... 30 sec... that's the story behind this... hahahhaa.